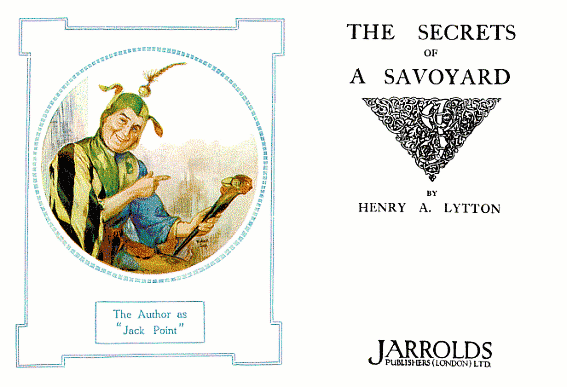 Henry Arthur Lytton first joined the D'Oyly Carte Opera Co. in 1884, and served as a member of the company almost continuously for fifty years, the last twenty-five of them as principal comedian. Lytton wrote two autobiographical books - the first "The Secrets of a Savoyard" was published in January of 1922 soon after the success of the Princes Theatre revivals had re-established the popularity of the G & S operas in central London; (a best-seller of its time - due in no small part to Lytton's legions of devoted fans - the copy transcribed below is the third reprint from March of 1922, which followed two earlier reprints in February alone.) A later (undated) edition of the book contained an alternate set of photographic plates to those included in the first.
Lytton's second book of autobiography "A Wandering Minstrel" was published in September of 1933 - just under a year before he ended his career in G & S playing his favourite rôle of Jack Point with the D'Oyly Carte in Dublin on 30th June, 1934. His final appearance on stage was as the Emperor of China in "Aladdin" for the Birmingham Prince of Wales Theatre's Christmas - New Year season of pantomime in '34 -'35.
Knighted for his services to the British Theatre in 1930, Sir Henry Lytton died on the 15th August, 1936 at the age of seventy-one.
This book was donated to the Gilbert and Sullivan Archive by Robert Morrison.
---