Gilbert and Sullivan Archive
Gilbert & Sullivan Opera
A History and a Comment
by H. M. Walbrook


CHAPTER XIX.
W. S. GILBERT AS A "PRODUCER."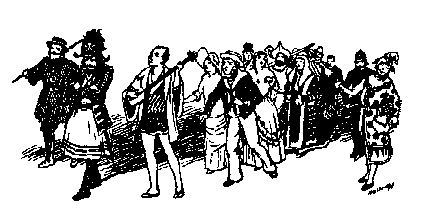 W.S. GILBERT on the comic stage, and Henry Irving on the tragic, were the ablest English "producers" of plays of the Victorian Era. Each in this matter was a disciplinarian, and could, if necessary, be a martinet. The only difference between them was that Irving would listen with exquisite patience and courtesy to suggestions from other people, and then — when, as often happened, he disapproved of them — dismiss them from his mind; whereas Gilbert inspired such a sense of awe that nobody, save a very foolish person, ever hinted at an improvement or emendation of any kind, and even the most foolish never did it a second time.
During more than forty years of his career as a dramatist he either selected or approved of the entire cast of each of his works, lyric or otherwise. The comic "business" he invented was as original and droll as the words of his operas, and has been meticulously adhered to. The stage-manager of the theatre attended the original rehearsals of each of the operas and took careful notes of all the "business," and it has been reproduced exactly ever since, not in London only, but also in the Provinces and abroad. One has only to watch the jurymen in Trial by Jury, the Peers in Iolanthe, and the Police in The Pirates of Penzance to perceive how copious and witty his inventiveness was in this department, and with what good sense his instructions have been respected during the years that have elapsed since first they were written down.
He would allow no alteration of his text unless it had been sanctioned by himself. His artistic sense was opposed to leaving comedians to do exactly as they please in using the author's libretto as a sort of skeleton framework on which to hang their own eccentricities. He never permitted any unauthorised "gagging." He always told the company that if they proposed to introduce gags of any kind they must submit them to him first, and if he saw no objection he would allow it. But he insisted on having the dernier mot, and, as he was responsible for the whole, he declined to be credited with the humour of other people. And looking back on the long years of his work not long before his death, he was able to say that no author had been more loyally supported by his company than he. "For twenty years," he remarked to an "interviewer" from the Pall Mall Gazette, "for twenty years I was in command of the Savoy stage, and in all that time I never had a material difference with one of them. They were always most anxious to carry out my ideas in every way."
With Sullivan, too, he always worked in perfect harmony. "We valued each other's contributions," he said in this interview, "and where it was necessary gave in to each other. I fully appreciated the value and importance of his music, and wherever I could modify my views to meet any wish of his I always did so, and he would do the same for me. Our work was absolutely amicable and harmonious throughout; and I never once had an angry or an irritating word with him in the course of the production of a piece." It is needless to add that they both had the same confidence in Mr. D'Oyly Carte in his management of the business side of the theatre. As Gilbert once said: "He would no more have thought of interfering with us in our department than we should have thought of interfering with him in his. Each of the three had his own department and confined himself to it.
The rare final result of all this admirable concentration and combination was seen on the Opéra Comique and Savoy first-nights, when the whole complicated production of words, music, "business," dancing and stage spectacle moved along as smoothly and effectively as though the performance were the hundredth instead of the first. One never read of those productions, in the papers of the following day, that they would be better when they had "settled down" and got into "working order." They had settled themselves to the last button, the last glance, and the last gesture by the time the dress-rehearsal was reached — and the dominating genius in compassing this perfection of presentation, the brilliant autocrat, whose nod was fate and whose word was law, was William Schwenck Gilbert.


---