A Greek Slave Manuscript Title Page 25 January 1898

Synopsis

A Greek Slave

A Musical Comedy in Two Acts

Libretto by Owen Hall

Lyrics by Harry Greenbank and Adrian Ross

Music by Sidney Jones

Additional numbers by Lionel Monckton

Produced by George Edwardes at Daly's Theatre, London
June 8th, 1898
For a run of 349 performances
Closing June 2nd, 1899.
A Greek Slave Act I
The Household of Heliodorus, Rome, About A.D. 90
Diomed is one of many Greek slaves ("On the dial") in the household of the Persian Heliodorus, the mightiest wizard in Rome ("The Wizard"). Roman patricans routinely pay to consult Heliodorus on matters of love and fortune ("By Bacchus", "Oracle Scene"). Diomed is also in love with Maia, the wizard's daughter and protoge, but he feels his position as a slave makes him unworthy of her love ("Freedom").

Heliodorus employs the slaves of Rome to spy on his clients so he may make accurate predictions. Among them is Iris ("Confidential"), the maid to Princess Antonia. Antonia is being sought in marriage by Marcus Pomponius, the powerfull Prefect of Rome who pays a visit to Heliodorus. Marcus threatens to expose Heliodorus if the wizard and his daughter will not help him win Antonia ("The Lost Pleiad").

Diomed is modelling for a statue of Eros, the god of love, sculpted by Arachias, another of Heliodorus' slaves, who is in love with Iris ("I Would Rather Like to Try") . Maia asks her father to let her marry Diomed and Heliodorus decides he must dispose of the meddlesome Greek slave . Maia resolves to gain Diomed's freedom so they can marry. ("All Is Fair").

Princess Anotnia comes to Maia to help her find love ("I Cannot Love"). Heliodorus, Maia and Pomponius plot to publicly embarrass the Princess by having her fall in love with a statue of a mere slave, thus having Pomponius become her salvation in the eye of Roman society ("Whirligig").

In the elaborate Act 1 finale spanning 3 numbers, ("Hail Antonia") Maia, in her guise as an Egyptian Oracle, foretells Antonia that the great god Eros will posess the statue and love her ("Invocaction"). Heliodorus takes the opportunity to rid himself of Diomed and satisfy Marcus by switching Diomed for the statue, who goes home with Antonia. Maia discovers that, to her horror, her lover has been given to Antonia as a living god ("Bear The God Of Love Along").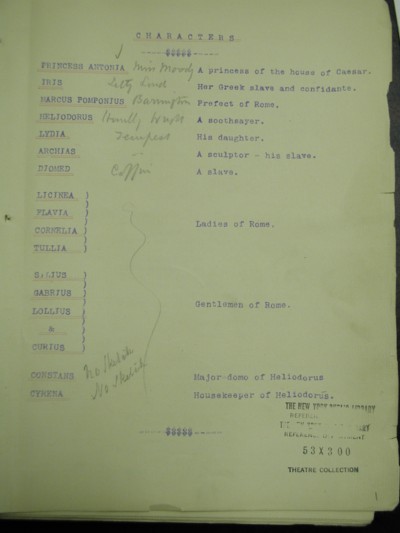 A Greek Slave Act II
Antonia's Villa at Baiae
Antonia and her entourage of members of Roman society and slaves has retired to her villa at Baiae, nowadays known as "Baia", about 8 miles north of Naples ("Here At Baiae On The Bay"). Antonia is disappointed with the less than amarous Eros/Diomed ("A Song of Love). Diomed is keeping his promise to always remain faithfull to his love Maia. Concerned about the deception, Heliodorus, Maia and Marcus come to Baiae to spy on Antonia and Diomed. Caught between the wrath of Marcus and Antonia, Heliodorus consults Iris to help resolve the matter ("Oh What Will Be The End Of It?"), while Maia plots to resuce and run away with Diomed ("The Golden Isle").

All is thrown into confusion by the arrival of the holiday festival of the Saturnalia ("Topsy-Turvy") when Slaves and their masters temporarily exchange roles. The revellers are led by Archias, the sculptor. ("Io! Saturnalia!", "The Revels"). The slaves are free to roam free and mock their masters and they find Diomed who is unhappy, because he cannot be with Maia ("The Girl of My Heart"). Heliodorus and the Slaves convince Diomed to flee before Antonia learns of the deception. Iris has Manlius tell Antonia that the god has once again become the cold marble statue.

The revelling slaves find Marcus and make fun of him though he doesn't understand why he is disliked ("I Want To Be Popular"). Though without her gof of love, Antonia still rejects Marcus and we learn that the shy soldier Manlius, a patrician and a member of the guard is in love with Maia. Iris plots to help Diomed by having Antonia fall in love with Manlius ("I'm a Naughty Girl"). Iris explains that pride might be the failing even of a god and relates the story of a singing a delightfull song about the demise of a singing frog of Aristophenes ("A Frog He Lived In A Pond, O!") - a song carrying Sidney Jones' tradition of Animal Songs into A Greek Slave.

Marcus grows weary of Heliodorus excuses and orders him to re-animate the statue, tying him to it and threatening him with torture. He is rescued when he agrees to marry his houskeeper slave, Melanopis with whom the Roman patricians catch Heliodorus in an embrace. He explains his position (the stuttering patter song "Nothing But Nerves") as due to a case of nerves.

Diomed returns, unable to live with his guilt at decieving Antonia and without the love of his Maia. Antonia learns of Manlius' love, and of Maia and Diomed's deceptions. She is enraged that they have al lconspired to make her the laughing stock of every fool in Rome! But, she is touched by Maia and Diomed plea for each other's life to be spared ("Forgive") and happy with the love of Manlius, whom she is convinced is the embodiment of Eros. Antonia fogives the Greek slave ("Hail Antonia!").
---

Page created 16 December 2001