MARTYN GREEN
as George Grossmith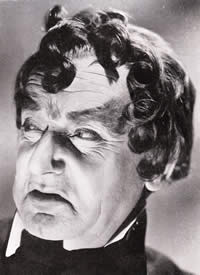 Born in London, son of William Green, a well-known concert tenor, Martyn Green studied under his father and with Gustave Garcia at the Royal Academy of Music. Engaged in 1922 as a member of the chorus and understudy to the D'Oyly Carte Opera Company, he gradually advanced to play parts of increasing importance which demonstrated his aptitude for comedy in the best Savoyard tradition. By 1930 he had been promoted to major roles in all the operas while continuing to understudy for the famous Sir Henry Lytton from whom, in 1934, he took over all the celebrated leading comedy roles — Ko-Koin The Mikado, the Major General in Pirates of Penzance, the Lord Chancellor in lolanthe, Jack Point in The Yeomen of the Guard and Reginald Burnthorne in Patience".
Martyn Green, who is equally popular on both sides of the Atlantic, retired from D'Oyly Carte Opera Company in 1950 and sailed for New York in the Autumn of 1952 and is now appearing on the American stage in the Gilbert and Sullivan operas.
---
---
Page modified 16 April, 2009 Copyright © 2009 The Gilbert and Sullivan Archive All Rights Reserved.