Dialogue following No. 8
Ko-Ko. Well, a nice mess you've got us into, with your nodding head and the deference due to a man of pedigree!
Pooh-Bah. Merely corroborative detail, intended to give artistic verisimilitude to an otherwise bald and unconvincing narrative.
Pitti-Sing. Corroborative detail indeed! Corroborative fiddlestick!
Ko-Ko. And you're just as bad as he is with your cock-and-a-bull stories about catching his eye and his whistling an air. But that's so like you! You must put in your oar!
Pooh-Bah. But how about your big right arm?
Pitti-Sing. Yes, and your snickersnee!
Helen Gilliland & Derek Oldham, 1921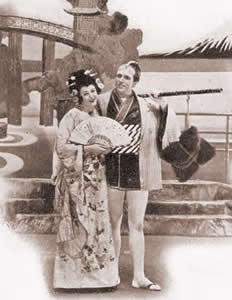 Ko-Ko. Well, well, never mind that now. There's only one thing to be done. Nanki-Poo hasn't started yet — he must come to life again at once. (Enter Nanki-Poo and Yum-Yum prepared for journey.) Here he comes. Here, Nanki-Poo, I've good news for you — you're reprieved.
Nanki-Poo. Oh, but it's too late. I'm a dead man, and I'm off for my honeymoon.
Ko-Ko. Nonsense! A terrible thing has just happened. It seems you're the son of the Mikado.
Nanki-Poo. Yes, but that happened some time ago.
Ko-Ko. Is this a time for airy persiflage? Your father is here, and with Katisha!
Nanki-Poo. My father! And with Katisha!
Ko-Ko. Yes, he wants you particularly.
Pooh-Bah. So does she.
Yum-Yum. Oh, but he's married now.
Ko-Ko. But, bless my heart! what has that to do with it?
Nanki-Poo. Katisha claims me in marriage, but I can't marry her because I'm married already — consequently she will insist on my execution, and if I'm executed, my wife will have to be buried alive.
Yum-Yum. You see our difficulty.
Ko-Ko. Yes. I don't know what's to be done.
Jennifer Toye & Thomas Round, 1961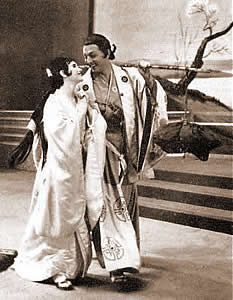 Nanki-Poo. There's one chance for you. If you could persuade Katisha to marry you, she would have no further claim on me, and in that case I could come to life without any fear of being put to death.
Ko-Ko. I marry Katisha!
Yum-Yum. I really think it's the only course.
Ko-Ko. But, my good girl, have you seen her? She's something appalling!
Pitti-Sing. Ah! that's only her face. She has a left elbow which people come miles to see!
Pooh-Bah. I am told that her right heel is much admired by connoisseurs.
Ko-Ko. My good sir, I decline to pin my heart upon any lady's right heel.
Nanki-Poo. It comes to this: While Katisha is single, I prefer to be a disembodied spirit. When Katisha is married, existence will be as welcome as the flowers in spring.