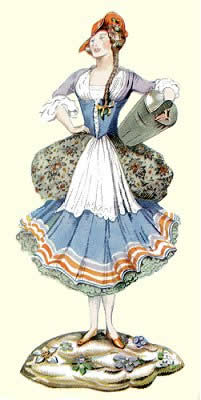 You are here: Archive Home > Patience
Patience opened April 23, 1881 at the Opera Comique and transferring to the new Savoy Theatre on October 10, 1881. The opera ran for a total of 578 performances.
The sixth G&S collaboration was "Patience", or "Bunthorne's Bride". Patience opened on April 23, 1881 at the Opera Comique and ran for 578 performances, moving on October 10, 1881 to D'Oyly Carte's new theatre, the Savoy, the first theatre in the world to be lit entirely by electric lights.
Patience satirizes the "aesthetic craze" of the 1870's and '80s, when the output of poets, composers, painters and designers of all kinds was indeed prolific — but, some argued, empty and self-indulgent. This artistic movement was so popular, and also so easy to ridicule as a meaningless fad, that it made Patience a big hit. The topical nature of the story may make Patience somewhat less accessible to some modern audiences, and G&S fans tend to have strong feelings one way or the other about Patience.
All the well-born young ladies in the village, rapturously caught up in aestheticism, are in love with two contrasting aesthetic poets — a "fleshy" poet and an "idyllic" poet. But the poets are both in love with Patience, the simple village milkmaid, who cares nothing for poetry. Patience learns that true love must be completely unselfish--it must wither and sting and burn! The girls' military suitors don't see the point to aesthetics, but they decide to give it a try to win the women's hearts. It is touch and go for awhile, but everyone ends up with a suitable partner, even if it is only a tulip or lily.
All the Music
and
All the Lyrics
from this Opera

Illustrated with Historical Photographs of D'Oyly Carte Opera Company Productions
Bab Ballads: The following Bab Ballads served as source material or inspiration for Patience. The Bab Ballads were comic verses contributed in the 1860s and 1870s to magazines such as Fun, for which he used his pen name of Bab.
Patience Art

Bab drawings illustrating Patience. Scanned graphics files of Gilbert's own drawings.



Opening Night Cast — a list of the principals with a biographical sketch of each.
Programmes: A selection of programmes from the Opera Comique and Savoy Theatre, 1881-2, and of the first revival at the Savoy in 1900.
Faultless Sympathy: an article by David Bamberger. This article also appeared in The Palace Peeper, the newsletter of the New York Gilbert and Sullivan Society. Submitted to the Archive by the author.

Page updated 24 April 2015 Copyright © 2008-15 The Gilbert and Sullivan Archive. All Rights Reserved.