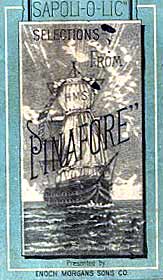 You can purchase copies of HMS Pinafore scores from the following locations. They offer online, or at least e-mail, ordering, and shipment to anywhere in the world.
The Gilbert abd Sullivan Archive. You can download a Vocal Score in PDF format [5.32MB]
Broude Brothers Limited -- new critical edition. This is the only fully-researched, scholarly edition of H.M.S. Pinafore. Broude Brothers offers:

FULL SCORE. Includes introduction, libretto with critical apparatus and full conductor's score with critical apparatus.
PIANO-VOCAL SCORE. Includes critical apparatus, discography, errata list for the Full Score (not yet available).
ORCHESTRA PARTS. Match the full score and vocal score. (not yet available)

Available from:
BROUDE BROTHERS LIMITED
141 WHITE OAKS ROAD
P.O. BOX 547
WILLIAMSTOWN, MA 01267-0547
U.S.A.
Tel. 413-458-8131
Fax. 413-458-5242
e-mail broude@sover.net
Chappells of Bond Street, now at 152-160 Wardour Street, carry the scores for all 13 G&S operas and are willing to ship them anywhere in the world. Their telephone number is +44(0) 20 7432 4400.
Dover Publications Scores — Both vocal and full orchestra scores in new editions by Carl Simpson and Ephraim Hammett Jones. They have turned to the original manuscripts and early sources to produce handsome, newly engraved plates closest to Gilbert and Sullivan's first intentions. All voice parts are included, in addition to the complete dialogue.
G&S Arrangements — Reduced orchestration of H.M.S. Pinafore by Mark Hartt-Palmer available for hire. Either the complete score or individual numbers (suitable for concerts) are available.
G&S Works, Inc. provides affordable, specialized orchestrations to theaters that require a smaller orchestra for their G&S operettas. These orchestrations provide a rich, full sound from a smaller ensemble. Three orchestrations are currently available: "The Pirates of Penzance," "H.M.S. Pinafore," and "The Gondoliers."
IMSLP — Vocal score and band parts can be downloaded as PDF files. The vocal score is an early edition which varies significantly from those published by Cramer and Schirmer.
Note8 Music Typesetting and Publishing — specializing in Gilbert and Sullivan orchestra materials. Typeset conductor's scores and orchestra parts for Sorcerer, Princess Ida, and Cox and Box. Rental of manuscript orchestra parts for Pinafore, Patience, Iolanthe, Mikado, and Yeomen.
Opus 1 Music — Exclusive North American agents for rental of "The Newby Scores" of the 13 G&S operas. The arrangements are scored for as few as 12 or 13 instrumentalists (or as many as the music director cares to include) and still maintain a balanced, artistic accompaniment. The "Newby Scores" have been used all over the English-speaking world and are frequently employed in the various International Gilbert & Sullivan Festivals.
Pattersong Music — Reduced orchestrations of The Mikado, Pirates

, Iolanthe, HMS Pinafore

& Patience are available for hire from Martin Paterson. The arrangements are ideal for use in smaller venues, where either a full orchestra would not fit in the space available, or where the full orchestral sound would be too much for the singers. Each arrangement is typically for Piano and 6-7 winds and strings.
PJ Music Works has produced a new orchestration, first performed by The Abbots Langley Gilbert and Sullivan Society in January 2011. This new arrangement has single wind and brass together with percussion and strings and can be performed effectively with 15 instrumentalists whilst providing colour and balance as close to the original as possible. Available for hire.
Reflect, my child
Edited and reconstructed by Bruce I. Miller and Helga J. Perry
Published by Broude Brothers Limited, New York & Williamstown

FULL SCORE with critical apparatus
VOCAL SCORE
ORCHESTRA PARTS

Available from:
BROUDE BROTHERS LIMITED
141 WHITE OAKS ROAD
P.O. BOX 547
WILLIAMSTOWN, MA 01267-0547
U.S.A.
Tel. 413-458-8131
Fax. 413-458-5242
e-mail broude@sover.net
Sheet Music Plus — The ultimate online sheet music source. They have over 366,000 titles to choose from, and you can order online. Single charge shipping of only $2.99 per order in the US. Click on the following links to go directly to their Pinafore score sales pages:
Tams-Witmark Music Library, Inc. - The Tams-Whitmark Music Library, which is located in New York City, has available the original D'Oyly Carte Orchestration for Pinafore.
WVD Press publishes a new edition of the conductor's score and orchestral parts of H.M.S. Pinafore .
---
Page updated 6 October 2011 Copyright © 2008-11 The Gilbert and Sullivan Archive All Rights Reserved