Article on A Princess of Kensington from the Play-Pictorial
IT appears from the Records preserved at the Savoy Theatre that, about one thousand years ago, Kenna, a lady of fairy origin who gave her name to Kensington, gave also her heart to a mortal, by name Albion, a prince of high degree, or at least Azuriel said she did, and being desperately in love with the lady himself, was also desperately jealous. But, if we are to believe the lady's own statement, Prince Albion had only fallen in love with her and that she pitied him as any woman, even though she were a fairy, might do. It might be presumed that, after a thousand years, death would have removed the prince, and Azuriel would once more have been happy.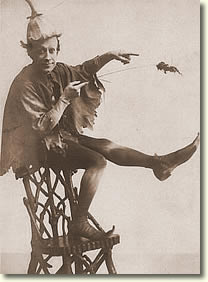 But in matters of fairydom one cannot reckon without Puck, who, at any rate in this instance, had intervened to pro-long the lovers' quarrel by a trifling period of nine or ten centuries by a mischievous piece of imposition. It is refreshing to find that though the fairy circle cannot be imposed on by mortals they can impose upon one another. Puck taught Kenna a spell (which was no spell) by which Albion might be laid asleep for a thousand years when mortals thought him dead. The time having elapsed, Azuriel's jealousy is once more inflamed at the thought that his rival may, at any time, appear on the scenes. But the spell being no spell, Albion is not likely to give any trouble in this respect. "He died well enough," says Puck, "for a man who had no previous experience."
Now if Azuriel would only have believed this there would have been an end to the matter, but "there are three things that waste time in the telling: wisdom to a fool, folly to a wise man, and the truth to a jealous lover." Azuriel must be imposed upon again in order to counteract the first imposition, and to this end a fictitious Albion is to be found and married to a mortal maid. Puck is not long in putting these matters in train. A young sailor from H.M.S. Albion is selected to take the place of Prince Albion. Unsuspicious of his fate, he is brought to Kensington Gardens. Thither also wander two young lovers — Brook Green and Joy Jellicoe.
Here is a rare opportunity. Sir James Jellicoe has consented to the engagement of his daughter. Puck assumes the appearance of Sir James while that worthy is bathing, and refuses it. As Joy's father he encourages Jelf, the sailor, to make abrupt and violent love to the astonished girl, and in order that Azuriel may more closely watch events, he casts his spirit into that of Japp, the constable, and directs his attention towards the "Prince," otherwise Jelf, who bears the hated name of Albion in gold letters on his cap. Bewilderment now reigns supreme; but yet one more complication. Jelf has been destined, this time by mere mortals, to help unravel another complication.
Mr. Reddish, the keeper of an alehouse, has been greatly perturbed by the action of his niece who has converted the little inn into a coffee shop. The intimate friends of Mr. Reddish share his indignation, and one of them having a nephew — none other than William Jelf — it is decided that the only way to get back to palmy days of ale and gin is to marry Nell to William by hook or by crook, "if a crook or a hook can do it." Which of these terms covers a revolver is not clearly stated, but Mr.Reddish proceeds to follow up the scheme with this useful weapon as an argument. Thus Jelf is destined by Puck as a bridegroom for Joy Jellicoe, and by Mr. Reddish and his friends in a similar happy capacity for Nell.
After a deal of wasted effort on both sides, the problem is solved. Azuriel is convinced that Albion is really dead, Nell decides to marry William's uncle, Ben, who dreams of beer all day and there-fore needs reforming, and peace is restored in fairyland, and in the heart of Brook Green and in the mind of William Jelf.
---
Page modified 20 February, 2012. Copyright © 2012 The Gilbert and Sullivan Archive All Rights Reserved.