SYNOPSIS OF THE STORY
Act One
Act One takes place outside the gates of the country residence of the Earl of Newtown, Viceroy and Lord Lieutenant of Ireland, in a picturesque country village. The time is early in the nineteenth century.
In the Opening Chorus the villagers are gossipping about the rumour that Terence O'Brian, a young rebel and scion of the local gentry, is shortly to return to the district after an absence abroad. Soon he is indeed among them but, since he spent his childhood in England and acquired English manners and an English accent, he is at first taken for a hated 'Saxon'. Terence assures the villagers that he is in fact the descendant of Brian Boru, one of the ancient Kings of Erin, and that no stronger patriot than himself exists.
Pat Murphy, the local blind fiddler, now comes out of his cabin nearby and points out that many local folk have become very much Anglicised thanks to the Lord Lieutenant's free elocution and deportment classes. Terence resolves to restore the Irish way of life to his villagers. But he needs a suitable tutor.
At this point (of course) comes the arrival of Professor Bunn, a "mesmerist, ventriloquist. . . character impersonator and professor of elocution" who is promptly engaged by Terence. However, there is a problem. Terence is a rebel, the villagers are with him to a man, and together they comprise a pro-Gaelic, revolutionary society, the 'Clan-na-Gael'. Bunn's interruption of their meeting could mean that he has overheard something and is now a danger to all of them. Clearly, therefore, someone must keep an eye on him lest he betray the Society to the Lord Lieutenant. Since Terence himself wishes to go off in pursuit of his ladylove (who happens to be the Lord Lieutenant's daughter), and the peasantry have departed the stage, Bunn is left in the charge of Blind Pat Murphy.
When the two are alone together, Murphy reveals that he is not in fact blind; he has merely pretended to be so because his own father was a blind fiddler and blind fiddling was the only trade he knew. He would now like to become un-blind in order to pursue an amour with Molly O'Grady. He suggests that Bunn shall do it for him and so assure his own reputation as a great healer. But when Molly, who now appears, seems more interested in Bunn than the fiddler, the latter quickly abandons the idea.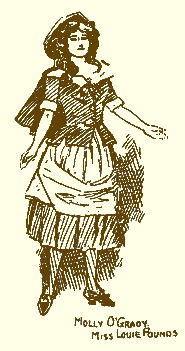 Now jealous of Bunn, a furious 'Blind' Murphy attempts to discredit him in the eyes of Terence (who now reappears )as "a traitor and a spy". Terence waves these trifles aside, for he has a use for the Professor. Having himself been unable to get past the sentries to deliver a note to Rosie, the Lord Lieutenant's daughter. He bids Bunn do it for him. Bunn mesmerises the sentry and strides in.
Molly now returns and we learn that she does in fact care for Murphy. Believing him to be blind, she does his housework for him, telling him that it is the act of the 'little people' or, rather more specifically, that of the Fairy Cleena, their queen. In a Trio Molly and Murphy tell Terence about Cleena, and the legend that her siren song lures young men to her caves, where they lie slumbering for fifty years.
Summoned by Terence's message, Lady Rosie and her maid Susan now arrive. To Terence's alarm, Susan reveals that Bunn had also brought with him another letter, this to be delivered to her mistress's father. The rebel is now even more mistrustful of Bunn and, although anxious to have some time alone with Rosie, determines that a close watch be kept on the Professor.
The three discuss this problem in song, midway in which it is resolved by the reappearance of Susan (who had absented herself on a romantic errand to the guard-room) to whom Bunn is now entrusted -- to little avail since he, professing himself to be a detective on a mission of importance, slips away to Murphy's cabin to don a disguise which he has brought with him.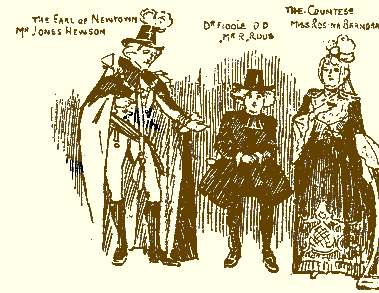 There now enter the Lord Lieutenant, his Countess, and their Private Chaplain, Dr. Fiddle, D.D. The Lord Lieutenant describes how he came to get married. He then enquires about the arrival of Professor Bunn who, it is now revealed, has been engaged in the capacity of conjuror to entertain the younger children of the village. After a song sung by the countess, Bunn's note to the Lord Lieutenant is eventually delivered to him. It tells him of the existence of the Clan-na-Gael, advises him that the probable hiding place of the rebel leader is in the Caves of Carrig-Cleena, up in the hills, and urges him to send along some troops. Molly and Murphy, entering from backstage, overhear this. She is justifiably upset when he accepts the Viceroy's proposition that he become his (paid) official musician, switching his allegiance to the English side, and departs in a huff.
The Lord Lieutenant has issued orders that troops be sent to Carrig-Cleena, and Rosie wonders how she shall get word of warning to her lover, whom she believes has already departed for his hideout. She sings a lovely air in which she hopes for a brighter tomorrow.
However, Terence has not yet left for the caves. When Rosie explains the situation to him, he determines to lay hands on Bunn immediately, now knowing him to be a traitor, and is not fooled when the latter emerges from Murphy's cabin, now disguised as an old man. Differences are forgotten, however, when Molly and Bunn come up with a plan to put off the soldiery. Terence is to tell them about the Fairy Cleena legend, Bunn (as an old man) will pretend that he has been one of her victims, and Molly will put in an appearance as Cleena herself.
The troops now arrive in a blaze of splendour, proclaiming themselves to be Devonshire men. Their Sergeant is close on their heels, and sings a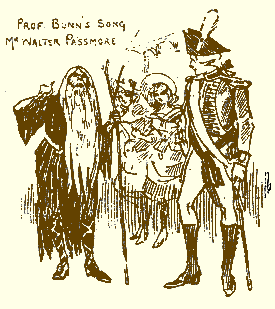 swaggering song. The deception is then enacted as planned, Bunn relating his experiences in song and the whole affair being crowned by Molly's eldritch wails. The soldiers are taken in, and resolve not to go to Carrig-Cleena; in the finale their view is expressed and we hear also the exhortations of the viceregal party. Another Molly appearance disperses the terrified assembly, and with this the curtain falls.
Act Two
Act Two is set at night outside the Caves of Carrig-Cleena. The chorus of rebels sing of their great wariness against the foe. Terence now brings the good news that the troops are not coming, and this evinces a short chorus of praise for Bunn and his plan.
The village girls then arrive, and everyone dances a jig. Alas, Molly rushes in with the unwelcome news that the troops have been persuaded to change their mind, and are on the way. Again under suspicion, Bunn is now a villain. Despair is rife, but Terence raises his comrades'morale with a fine song about the quality of the Irish people. Rosie and Susan have followed Terence to the caves, and his followers are aghast at his liaison; the lovers explain how they first met.
Enter now Professor Bunn whose brain is again engaged to devise a plan of action. He suggests that Molly again impersonate Cleena, but accidentally offends her with the suggestion that she importune all the young soldiers; the subject is chewed over by the protagonists in a concerted number. Bunn proposes to present a vision of Cleena by a light/mirror projection, and sings an 'illusion' song.
To add to the effect, Bunn also proposes to appear in the guise of a goblin. At this point there enters Murphy, who is going to pretend that after his visit to the fairy caves, his sight was miraculously 'restored' to him. The 'mirror' illusion is mounted for his benefit and, deceived, he falls in a faint.
Murphy's presence is for some reason generally regarded as being suspicious, and he is questioned closely. The truth about his sight at last emerges, and the deceit grieves Molly greatly. But when he bids her farewell she is greatly moved, and realises that she loves him.
The sergeant now arrives, in advance of his party, and Terence attempts to revive fears of the Cleena legend. Enter the Lord Lieutenant and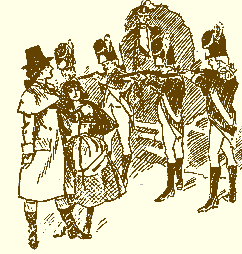 Countess, followed by the soldiers, who are directed to arrest Terence and his rebels. Rosie flings herself into Terence's arms, declaring her love. The Viceroy, of course, does not approve of the situation: not only are his adversaries rebels, who must be shot, his daughter must naturally marry only an aristocrat.
This may seem an impossible situation, but it is not. It transpires that Rosie is half American, on her mother's side,and since "America is the friend of Ireland" there should be no quarrel and Terence's band "are no longer rebels". Furthermore, Terence is of course indeed an aristocrat, having been descended from Brian Boru (as we learned in Act One). All can now therefore end happily and in the finale the company sing of the "typical Irish ball" with which they intend now to celebrate.
Archive Home | Arthur Sullivan | Major Works | Top of Page | The Emerald Isle