Haddon Hall — the Estate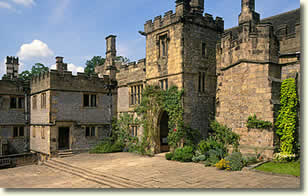 Haddon Hall is situated between Bakewell and Rowsley in Derbyshire and is the home of the Manners family. Haddon Hall is a medieval fortified house, dating back to the 12th century when Richard de Vernon began the building.
The house lay abandoned and empty for over two hundred years (from around 1700 to the early 1900s). The result was the avoidance of 'improvements' and 'development' during that period. A Roman altar to the god Mars can be seen at Haddon Hall, its inscription translates "To the god Mars Braciaca, Quintus Sittius Caecilianus, Praefect of the first cohort of Aquitani, performs his vow".
William the Conqueror's illegitimate son, Peverel, and his descendants held Haddon for a hundred years before it passed into the hands of the Vernons. It was under their care and particularly under that of Richard de Vernon in the 14th century and Sir Henry Vernon in the 16th century that Haddon Hall took on the shape of the building we are familiar with today. It came into the possession of the Manners family by marriage after the death of Sir George Vernon in 1567 and has remained in the Manners family ever since. Haddon Hall is a favourite tourist attraction.
---
Page modified 24 May 2015 Copyright © 2015 The Gilbert and Sullivan Archive All Rights Reserved.