THE D'OYLY CARTE OPERA COMPANY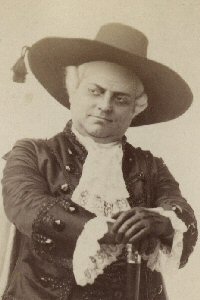 Fred Billington as Don Alhambra in The Gondoliers
Fred Billington (1879-89, 1890-1917)
[Born Lockwood, near Huddersfield 1 Jul 1854, died London 2 Nov 1917]
Fred Billington joined Mr. D'Oyly Carte's "Second London" Company on tour in Shoreditch in September 1879 in the roles of Bill Bobstay in H.M.S. Pinafore and Policeman 100-A in a companion piece, Antony and Cleopatra, a farce by Charles Selby. By November he had taken over the role of Dick Deadeye, and the following month transferred to Mr. D'Oyly Carte's "Second 'Pinafore'" Company as their Deadeye. It was with the "Second 'Pinafore'" Company in Paignton on December 30 that he gave the first presentation of the Sergeant of Police in the copyright performance of The Pirates of Penzance. He also had a part, unidentified, in Number One Round the Corner, a farce by Robert Brough that played as a companion piece with Pinafore.
In March 1880, Billington transferred to "D" Company where he played the Notary in The Sorcerer and Bobstay in Pinafore. After a brief detour back to "Second 'Pinafore'" as Deadeye in July, he returned to "D" Company later that month. This time his roles were Doctor Daly in The Sorcerer, Dick Deadeye in H.M.S. Pinafore, and Sisyphus Twister in the curtain-raiser Six and Six. In December he was back with "Second 'Pinafore'" (now "A" Company), as Deadeye, and in March 1881 it was on to "B" Company to play Doctor Daly, Dick Deadeye, and (for the first time) the Pirate King in The Pirates of Penzance. Still with "B" Company in 1882, Billington switched to Captain Corcoran in Pinafore. From December 1882 to July 1883 he toured with another D'Oyly Carte Company as Derrick von Slous and Captain Hendrich Hudson in Farnie and Planquettte's Rip Van Winkle.
There followed brief assignments with Carte's "Pinafore" and "Pirates" Company (August to September, Captain Corcoran and Pirate King) and No. 2 "Iolanthe" (October 1883 to January 1884, Private Willis). He then played King Hildebrand in the First Provincial production of Princess Ida with the new "D" (No.1 "Princess Ida") Company from February to December 1884, shifting to "A" Company at the end of the run in December to play Hildebrand and Doctor Daly. "D" Company was revived in February and Billington was back with them as Hildebrand, Doctor Daly, and the Learned Judge in Trial by Jury. In July, "D" Company performed The Mikado for the first time with Billington as Pooh-Bah, and in August Billington and others left for New York where they gave The Mikado to American audiences.
Returning from America, he joined Carte's "Continental Company" ("G" Company) in May 1886, performing Captain Corcoran and Pooh-Bah in Liverpool and Manchester before heading for Germany and Austria where he played Pooh-Bah from June 1886 to January 1887. He then returned to England to rehearse the new opera, Ruddygore, gave two matinee performances as Sir Despard Murgatroyd at the Savoy, and then sailed for New York again, playing Sir Despard there from February through April. In June and July he was back on tour as Despard in England with Carte's "B" Company, and in August filled in for Barrington briefly at the Savoy.
In September 1887, he returned to the provinces, playing Colonel Calverley in Patience and Pooh-Bah with Carte's "D" Company. He left for his second tour of Germany and Austria in November, performing Deadeye, the Colonel, and Pooh-Bah for Continental audiences until February 1888.
From February 1888 to December 1889 he toured with Mr. D'Oyly Carte's "C" Company, first giving H.M.S. Pinafore (Deadeye), The Pirates of Penzance (Sergeant of Police), Patience (Colonel), and The Mikado (Pooh-Bah) in repertory through October 1888; then The Yeomen of the Guard (November 1888 to June 1889 as Sergeant Meryll, and June 1889 to December 1889 as Wilfred Shadbolt). Billington then left the D'Oyly Carte to take the part of Bragadoccio in the first British production of Paulton & Jakobowski's comic opera Paola (Lyceum Theatre, Edinburgh, December 16, 1889). His absence would not last more than a few weeks.
He was next called upon to bail out Carte's ailing New York production of The Gondoliers. A weak cast at the Park Theatre had been badly received by the New York press and theatre-going public. The opera was restaged at Palmer's Theatre in February 1890, where it ran with some success until April with Billington as Don Alhambra. The Company returned to the British Isles in May, giving The Gondoliers until August, then Mikado and Yeomen (Billington as Pooh-Bah and Shadbolt) until December.
In December 1890, there began a long association with D'Oyly Carte's Opera Company "C" (eventually renamed the D'Oyly Carte Repertory Opera Company) that would last, with a few emergency assignments, until Billington's death in 1917. He rarely had a night off, playing the Judge in Trial by Jury, Doctor Daly in The Sorcerer, Dick Deadeye in H.M.S. Pinafore, the Sergeant of Police in The Pirates of Penzance, Archibald Grosvenor (a new role for him) in Patience, Private Willis in Iolanthe, King Hildebrand in Princess Ida, Pooh-Bah in The Mikado, Wilfred Shadbolt in The Yeomen of the Guard, and Don Alhambra in The Gondoliers on a regular basis whenever those operas were in the repertory. He also played Punka in The Nautch Girl (1892), King Paramount in Utopia Limited (1898-1900), and Sultan Mahmoud in The Rose of Persia (1900-01), when those operas were added to the repertory.
From July to November 1896 he was at the Savoy in place of Rutland Barrington as Pooh-Bah in that year's revival of The Mikado, Barrington having asked to be released from his obligation. After a month back with Company "C" (in which Jones Hewson filled in at the Savoy), he returned in December to finish the revival and, in February 1897, to create the title role of King Mopolio VII in Burnand and Mackenzie's His Majesty. He left the Savoy in April due to illness, and was thus unable to appear as Shadbolt in the 1897 revival of Yeomen as had been planned, the part going to Henry Lytton instead. After a lengthy convalescence, Billington returned to Company "C" in August, where he remained for the balance of his career.
Only in the 20th Century did he give up some of his roles on a full time basis:in 1904 Trial was revived with C. Herbert Workman as the Judge; in 1905 Billington yielded Grosvenor in Patience to Albert Kavanagh; in 1912 Fred Drawater assumed Dick Deadeye on a regular basis; in 1913 Arthur Kempton took over as Private Willis; and shortly before his death Billington turned King Hildebrand over to Frank Wilson. He retained the Sergeant of Police, Pooh-Bah, Shadbolt, and Don Alhambra until the end.
On November 2, 1917, Fred Billington collapsed after lunching at the Liverpool Street Hotel with Rupert D'Oyly Carte. He was dead before a doctor could arrive.
---
B Index | "Who Was Who" Homepage
---