THE D'OYLY CARTE OPERA COMPANY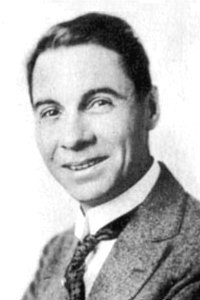 Sidney Bracy
Sidney Bracy (1901-02)
[Born Melbourne, Victoria, Australia 18 Dec 1877, died Hollywood, California 5 Aug 1942]
Best known as a Hollywood character actor, Sidney Bracy began his stage career in his native Australia in the 1890s.He was the son of Henry Bracy, D'Oyly Carte's original Prince Hilarion at the Savoy. His professional appearances there included at least one Gilbert & Sullivan opera:a revival of The Yeomen of the Guard at Her Majesty's Theatre, Sydney, in August 1898, in a cast that included Charles Kenningham and Dorothy Vane.
Before joining the D'Oyly Carte he appeared as Yussuf in the Carte-sanctioned New York production of The Rose of Persia. The run lasted only 25 performances from September 6 to 29, 1900.
He then relocated to England, appearing in London as Moreno in the musical play The Toreador at the Gaiety in June 1901.He left the Gaiety and joined the D'Oyly Carte fold for his only engagement a few months later, taking the part of Terence O'Brian in The Emerald Isle with the "Savoy Touring Company" (Company "D") from September 2, 1901, to May 10, 1902.
Bracy's stage career in Britain continued for the remainder of the decade, and included London comic opera and musical roles in Amorelle (Comedy, February-March 1904), and A Persian Princess (Queen's, April-July 1909.He then travelled to America, appearing in New York in a revivals of Smith & deKoven's Robin Hood (New Amsterdam, May-June 1912) and Rob Roy (Liberty, September-October 1913).
He then turned to film, appearing in nearly 200 silents and talkies from 1913 until his death in 1942, from 1916 onward as Sidney Bracey.Early in his film career, he tried his hand at writing and directing a silent movie called Sid Nee's Finish (Tannhauser Film Corp., 1914), in which he also starred as Sid Nee.
Sidney Bracey worked with most of Hollywood's greatest stars and directors, and many of his films are available on video today. As an actor, he was described by silent film authority Diane MacIntyre: "Bracey, a stately looking character man, was in big demand for authority like roles; such as movie directors, bosses and, most of the time, the most respectable and poised butler in all of Hollywood. He was thin, dark haired and had an earnest, yet sober, face that could break into a look of wide-eyed exasperation."
---
B Index | "Who Was Who" Homepage
---