THE D'OYLY CARTE OPERA COMPANY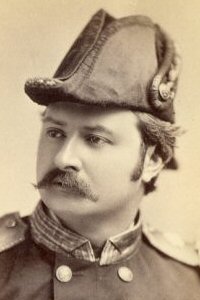 Signor Brocolini as Captain Corcoran in H.M.S. Pinafore
(Signor) Brocolini (1879-80, 1881, 1885-86, 1887)
[Born Cork, Ireland]
Born John Clark in Ireland, Signor Brocolini moved to Brooklyn, New York, as a child and adopted an Italian sounding stage name based on his hometown early in his career.On February 1, 1872, as John Clark, he appeared in a concert at the Church of the Messiah in Brooklyn for the dedication of a new organ. It was his only recorded appearance on the New York Stage prior to 1879.
Perhaps as a tryout with the D'Oyly Carte, he first appeared with Mr. D'Oyly Carte's First "Pinafore" Company on tour in Liverpool in October 1879. The next month he was on his way to New York where he appeared as Captain Corcoran in H.M.S. Pinafore at the Fifth Avenue Theatre, December 1, 1879, and then created the role of the Pirate King in The Pirates of Penzance on December 31. He played the Pirate King in New York and on tour with Carte's First American "Pirates" Company through June 1880. After that Company closed Brocolini continued to play the Pirate King in a non-D'Oyly Carte (but authorized) production, appearing in Boston the last two weeks of July.
Brocolini was engaged by D'Oyly Carte and E. E. Rice again in April 1881 to play Christopher Crab with their Second American Billee Taylor Company. He toured in that role until summer, first with Carte and Rice, and later with the Rice-Goodwin Lyric Comedy Company.
Over the next few years, while away from D'Oyly Carte, he was never far from Gilbert & Sullivan. He appeared at Haverley's Theatre, Brooklyn, in H.M.S. Pinafore and other comic operas in February 1882, and in March 1882 he was on tour as the Pirate King, Christopher Crab, and (presumably) Captain Corcoran with the Boston Comic Opera Company. In October 1882, he returned to the Fifth Avenue Theatre as Christopher Crab in Billee Taylor. From December 1882 to April 1883, he played Strephon in Iolanthe with Collier's Standard Opera Company in the first ever production at the Boston Bijou Theatre. He remained with Collier's at the Bijou through June 1883, appearing next in Pounce & Co., and then as Sir Marmaduke Pointdextre in The Sorcerer. Both the Iolanthe and Sorcerer productions were sanctioned by D'Oyly Carte.
In February and March 1884, Brocolini took the role of King Hildebrand in New York's first production of Princess Ida, staged with D'Oyly Carte blessing at the Fifth Avenue Theatre by E. E. Rice. He then traveled to Australia, where he appeared as Strephon in Melbourne and Sydney over a period of several months beginning in May 1885.
His next appearances under D'Oyly Carte auspices was on tour with Carte's Second and Third American Mikado Companies as Pooh-Bah from November 1885 through May 1886.
In November and December 1886, he was back at the Fifth Avenue Theatre again in revivals of The Mikado (as Pooh-Bah) and Princess Ida (as Hildebrand), after appearing the previous month in Brooklyn as Pooh-Bah.
In January 1887 he was on a John Stetson tour of New England as Colonel Calverley in Patience. From February to May 1887, still with Stetson, he was back under the D'Oyly Carte name for the last time, touring the Northeastern United States first as King Hildebrand in Princess Ida, then as Sir Despard Murgatroyd with Carte's Second American Ruddygore Company, beginning in March.
Brocolini's comic opera career continued into the 1890s. His post-D'Oyly Carte Gilbert & Sullivan appearances included revivals of Ruddygore and The Mikado with the Stetson Opera Company (1888), a Carte-sanctioned production of The Gondoliers in Brooklyn (as the Duke of Plaza-Toro, February 1890), and Patience with the Brooklyn Amateur Operetta Company (1892).
---
B Index | "Who Was Who" Homepage
---