THE D'OYLY CARTE OPERA COMPANY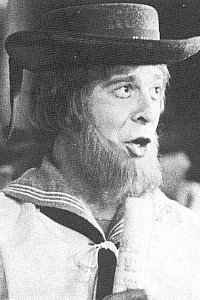 Michael Buchan as Bill Bobstay in H.M.S. Pinafore
Michael Buchan (1972-82)
Baritone Michael Buchan, whose real name was Michael Fox, began his operatic career at the age of nine in Carmen with the Carl Rosa Company. He joined the D'Oyly Carte Opera Company in September 1972 and remained with the organization until its closure in April 1982. He was understudy to John Ayldon in many of the latter's principal roles, making occasional appearances as the Mikado of Japan in The Mikado (1972-82), Sergeant Meryll in The Yeomen of the Guard (1972-82), Sir Marmaduke Pointdextre in The Sorcerer (1973-74), Dick Deadeye in H.M.S. Pinafore (1973-82), Major General Stanley in The Pirates of Penzance (1973-74), the Pirate King in The Pirates of Penzance (1975-82), the Earl of Mountararat in Iolanthe (1975-81), Old Adam in Ruddigore (1976-77), Colonel Calverley in Patience (1977-79), and Arac in Princess Ida (1977-78).
Buchan also played several smaller named parts on a regular basis. He was Calynx for the 1975 D'Oyly Carte Centenary revival of Utopia Limited, and in September of that year assumed the roles of Bob Beckett in H.M.S. Pinafore and Giorgio in The Gondoliers from John Broad who had left the Company at the end of the 1974-75 season. (Mr. Buchen may be heard as Giogio in the 1977 D'Oyly Carte recording of The Gondoliers.) In October 1979, he moved up to Bill Bobstay in H.M.S. Pinafore and assumed the additional role of Samuel in The Pirates of Penzance, and in February 1981 added Old Adam to his regular duties when Ruddigore was restored to the repertoire.
Michael is married to fellow D'Oyly Carte principal Patricia Leonard, a marriage that predates their D'Oyly Carte careers. Both have continued to perform in Gilbert & Sullivan following the demise of the original D'Oyly Carte in 1982, appearing together in concert and in Gilbert & Sullivan Festival productions in Philadelphia and Buxton.
---
B Index | "Who Was Who" Homepage
---