THE D'OYLY CARTE OPERA COMPANY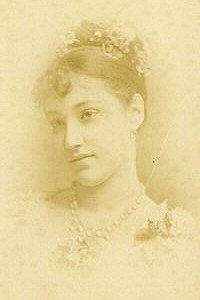 Alice Burville as Josephine in H.M.S. Pinafore
Alice Burville (1878-79, 1881)
[Born Stepney 11 Jul 1856, died Littlehampton 4 Jul 1944]
Alice Julia Burville's career as a singer was launched in 1874 when she appeared at the Theatre Royal, Drury Lane in an operetta, Ten of 'Em, by Suppe. She next performed at the Charing Cross, Criterion, and Gaiety Theatres in London before going on tour. Returning to London, she appeared in Der Fledermaus and Orphee aux Enfers at the Alhambra before touring America, with Lydia Thompson, in 1877 in such roles as Fatima in Blue Beard and Polly Hopkins in Robinson Crusoe.
She returned to London in January 1878 in an Offenbach opera at the Philhamonic. Later that year, she joined Carte's Comedy-Opera Company at the Opera Comique in the chorus and playing Lady Viola in the curtain raiser The Spectre Knight. She also understudied Emma Howson as Josephine in H.M.S. Pinafore and took over that role for a time in August 1878, again in February 1879, and once more in August or September 1879 after the rift with the Directors resulted in the renaming of the Company as Mr. D'Oyly Carte's Opera Company. In October 1879 she played Josephine yet again, this time on tour with Mr. D'Oyly Carte's "First 'Pinafore' Company."
Miss Burville then left the D'Oyly Carte, returning to Drury Lane as Clairette in La Fille de Madame Angot in 1880, but was back in the D'Oyly Carte fold the following year. This time she appeared in America as Arabella Lane with Carte's First American Billee Taylor Company (February to April 1881), and later (September to October 1881) as the Lady Angela with Carte's New York Patience cast at the Standard Theatre.
She returned to London where she appeared as Fiametta in Suppe's Boccaccio (Comedy, 1882). Thereafter she appeared primarily in the provinces. She was last seen in Offenbach's Geneviere de Brabant in Leicester in December 1893.
Miss Burville was in 1876 married for a brief time to Savoyard W. H. Denny.
---
B Index | "Who Was Who" Homepage
---