THE D'OYLY CARTE OPERA COMPANY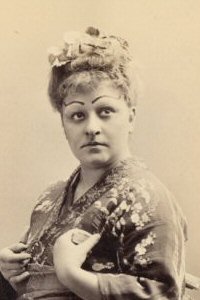 Elsie Cameron as Katisha in The Mikado.
Elsie Cameron (1881-90)
[Born c.1860]
Elsie Cameron was with D'Oyly Carte touring companies from 1881 to 1889. She began with Mr. D'Oyly Carte's newly formed "D" Company from August to December 1881 as the Lady Angela in Patience, giving the occasional performance as the Lady Jane in place of Fanny Edwards. She also played Mrs. Wallaby in the Desprez & Solomon curtain raiser Quite an Adventure.
In March 1882 she joined Mr. D'Oyly Carte's No. 1 "Patience" Company, again as Angela, and again filled in for Miss Edwards as Jane in June. In August 1882, Fanny Edwards left and Miss Cameron took over Lady Jane for the remainder of the tour, which ended December 16. She also had a part, either Mrs. Bowcher or the non-singing Jane, in Desprez and Faning's companion piece Mock Turtles.
Carte's No. 1 "Patience" Company resumed touring in March 1883, but Miss Cameron did not return until April when she again took over as Angela, and again filled in on occasion as Jane in July. The tour ended in December 1883, and on Boxing Day the new Mr. D'Oyly Carte's "Pinafore" and "Pirates" Company opened in Bath with Elsie Cameron as Little Buttercup in H.M.S. Pinafore and Ruth in The Pirates of Penzance. After touring Bath, Devenport, and Exeter, the company was disbanded on February 2, 1884.
From March to July 1884, Miss Cameron toured Great Britain with Carte's "C" ("Patience" No. 1) Company as the Lady Jane. From July to September 1884, "C" Company toured as a Repertory Company, with Alice Barnett in the principal contralto roles, and Elsie Cameron relegated to Edith in The Pirates of Penzance and Angela in Patience.
Carte's "C" (Repertory) Company was idle until April 1885, when it was revived on tour with Elsie Cameron assuming the contralto roles of Little Buttercup in H.M.S. Pinafore, Ruth in The Pirates of Penzance, Jane in Patience, and the Queen of the Fairies in Iolanthe. The tour lasted until July.
In August 1885, she went to America as Katisha in Carte's first New York production of The Mikado. She toured with Carte's First American Mikado Company until May 1886. The Company returned to England briefly, appearing at Liverpool and Manchester between May 17 and 29 in H.M.S. Pinafore and The Mikado (Cameron as Buttercup and Katisha), then headed for a tour of Germany and Austria as Mr. D'Oyly Carte Opera's "Continental Company," where they played The Mikado until January 1887.
She returned to England to prepare for the next opera, giving two performances at the Savoy as Dame Hannah in Ruddigore in February 1887. She then went to New York as Dame Hannah with Carte's First American Ruddygore Company. The run lasted two months. In September 1887 she was back at the Savoy, filling in briefly for Rosina Brandram as Dame Hannah, before going on tour in the provinces with Carte's "D" Company as Lady Jane and Katisha. She left "D" Company in November 1887 to once more tour Germany as Katisha through February 1888. At that point she was back with D'Oyly Carte's "C" (Repertory) Company, and between February and October 1888 appeared regularly as Little Buttercup, Lady Jane, Katisha, and Ruth (The Pirates of Penzance). On November 1, 1888, "C" Company gave the First Provincial production of The Yeomen of the Guard with Elsie Cameron as Dame Carruthers. She toured in that role until December 7, 1889.
She next appeared at the Savoy in May and June 1890, substituting for Rosina Brandram as the Duchess of Plaza-Toro in The Gondoliers. This appears to have been her last engagement with the D'Oyly Carte organization.
She then traveled to Australia, where she appeared in Sydney productions of Iolanthe (1891), The Pirates of Penzance (1893), and Princess Ida (1893), and in New Zealand, where her roles included the Duchess in The Gondoliers (1892). She ultimately returned to England, reportedly appearing at the Gaiety in London at some point during the run of The Orchid (October 1903 to April 1905).
---
C Index | "Who Was Who" Homepage
---