THE D'OYLY CARTE OPERA COMPANY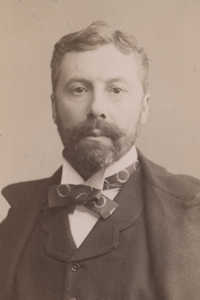 Richard D'Oyly Carte
Richard D'Oyly Carte (m.d., 1876)
[Born Soho, London 3 May 1844, died London 3 Apr 1901]
The son of Richard Carte, partner in the firm of Rudall, Carte & Co., music publishers and musical instrument makers, Richard D'Oyly Carte left school to join his father's firm and study music in 1861 at age 17.He went on to compose and publish a number of his own songs and instrumental works.His musical compositions included an opera, Dr. Ambrosias, His Secret, first performed at St. George's Opera House in 1868.However, Carte came to realize that his greater talent lay in management, and he soon launched a successful concert agency in Charing Cross.He managed Gounod's business affairs in England, and negotiated engagements and concert tours for Carlotta Patti, Adelina Patti, the tenor Mario, and Edward Lloyd among others.
Gradually he began to drift toward light opera production.In 1875, during the run of one of these operas, Offenbach's La Perichole at the Royalty Theatre, Carte hit upon the idea that would launch the greatest partnership in the history of British Musical Theatre.Attendance at the Royalty was down, and Carte suggested to Selina Delaro, for whom he was managing the theatre, that a new piece by W. S. Gilbert and Arthur Sullivan be added to the bill.The result was Trial by Jury, produced March 25, 1875.
Trial by Jury was an immediate success, and was performed at several venues in London and the provinces in Carte-managed productions over the next two years.On one such tour (June 19 to August 5, 1876), Carte himself served as musical director of "Mr. R. D'Oyly Carte's Opera Bouffe Company."Full length works performed on this tour of Manchester, Liverpool, and Dublin were La Perichole, La Fille de Madame Angot, and La Tibale, with Trial by Jury and Carte's own one-act musical pastoral Happy Hampstead serving as companion pieces.
Carte realized he was on to a good thing and in 1877 formed a syndicate to perform "light opera of a legitimate kind," namely Gilbert and Sullivan operas, at the Opera Comique and on tour.The Comedy-Opera Company (Limited), as it was called, produced The Sorcerer and, in 1878, H.M.S. Pinafore.Carte and the Company's Directors had a rocky two-year relationship that ended July 31, 1879, when an attempt was made on behalf of the Comedy-Opera Company Directors to seize the Pinafore scenery at the Opera Comique.The Directors were rebuffed, and Pinafore continued at the Opera Comique the next night with the same cast now and forevermore billed as "Mr. D'Oyly Carte's Opera Company."The Directors staged a rival production at the Imperial Theatre (and later the Royal Olympic) but it was withdrawn after three months.Meanwhile, Carte (along with Gilbert and Sullivan) prevailed in legal action to secure their rights to the work.
Pinafore was followed in 1881 by Patience at the Opera Comique, and later that year Patience was transferred to Carte's new theatre on the Strand, the Savoy:the first theatre in London to be lighted entirely by electricity.Gilbert & Sullivan operas (both premieres and revivals) held the Savoy stage until 1891, when a rift between Carte and Gilbert known as the "Carpet Quarrel" brought them to an abrupt end.Carte continued to produce comic opera at the Savoy, primarily works by Sullivan with other collaborators, but also filling the gaps with works by other composers.The break was eventually healed and Gilbert returned to the Savoy again in 1893 (with Utopia Limited) and 1896 (with The Grand Duke).
In 1891, Carte produced Sullivan's "grand opera" Ivanhoe to launch his new Royal English Opera House in Cambridge Circus.It was Carte's idea to establish serious British opera there as a regular institution, but this never came to pass.When Ivanhoe closed after a successful run there was no British opera to succeed it.Messager's La Basoche was brought in to fill the gap, and then the theatre was let to Madame Sarah Bernhardt for a season.Carte finally abandoned the project and sold the theatre to a syndicate.It was then converted into a music hall:the Palace Theatre of Varieties.
Sullivan's affiliation with the Cartes never wavered.He was composing for the Savoy right up until his death in 1900.Carte managed the D'Oyly Carte Opera Company for the rest of his life, though during his last years he had considerable support from his second wife and long-time assistant, the former Helen Lenoir.As Helen Lenoir, she had managed his operations in America in the early 1880s.After Carte's death, she managed the D'Oyly Carte Opera Company until her own passing in 1913.
There has never been a published biography of Richard D'Oyly Carte, however, "The D'Oyly Carte Opera Company 1875-1982," by Tony Joseph (Bunthorne Books, Bristol, 1994), gives an excellent history of the Company he formed and considerable detail on his life and career.
---
Richard D'Oyly Carte and the Dynasty He Founded (by Diana Burleigh) | The Richard D'Oyly Carte Family (by David Duffey) | C Index | "D'Oyly Carte Who Was Who" Home Page
---