THE D'OYLY CARTE OPERA COMPANY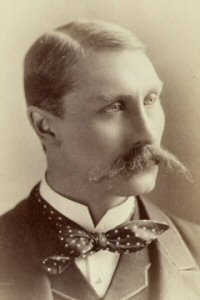 Alfred Cellier
Alfred Cellier (m.d., 1877-83, 1884, 1885)
[Born Hackney, London 1 Dec 1844, died London 27 or 28 Dec 1891]
Alfred Cellier was, like Arthur Sullivan, a chorister at the Chapel Royal, St. James, under the Rev. Thomas Helmore.In 1862 he was appointed organist to the Church of All Saints, Blackheath, and conductor of the Belfast Philharmonic Society.In 1868 he was appointed organist at St. Alban's Church, Holburn, and in 1871 obtained his first position as conductor at the Prince's Theatre, Manchester.
In December 1877 he joined the D'Oyly Carte organization as Musical Director at the Opera Comique.There he conducted not only The Sorcerer, followed by H.M.S. Pinafore (beginning in May 1878), but also three of his own one-act works:Dora's Dream (December 1877 to February 1878), The Spectre Knight (February to March and May to October 1878), and After All! (December 1878 to October 1879); along with Trial by Jury (March to May 1878) and George Grossmith's Cups and Saucers (August 1878 to October 1879).
In December 1879, he accompanied Gilbert, Sullivan, and Carte to America, where he conducted H.M.S. Pinafore and The Pirates of Penzance on tour with Carte's First American Company. He returned to London and the Opera Comique in July 1880, to direct the music for The Pirates of Penzance and another work of his own:In the Sulks.
Cellier returned to America in 1881 to conduct D'Oyly Carte's New York productions of Billee Taylor (February to August 1882, including a tour beyond New York City), Les Manteaux Noirs (September to October 1882), Rip Van Winkle (November 1882), and Iolanthe (November 1882 to February 1882).
He then left the Carte organization, but returned again for brief stints a Musical Director with D'Oyly Carte's touring "A" ("Princess Ida" No. 2) Company (July to December 1884), and D'Oyly Carte's "D" Company (performing The Mikado on tour (July to October 1885).
Alfred Cellier composed two additional companion pieces that received their premieres at the Savoy under D'Oyly Carte auspices:The Carp (played with The Mikado and Ruddigore in 1886-87), and Mrs. Jarramie's Genie (composed jointly with his brother François Cellier, and performed with several operas at the Savoy between 1887 and 1889).
In his day Cellier was best known as a composer of light operatic works, though he also wrote separate songs and composed for orchestra, and pianoforte.Most of his early operatic works (including Charity Begins at Home, 1870; The Sultan of Mocha, 1874, The Tower of London, 1875; Nell Gwynne, 1876; Bella Donna, 1878; The Masque of Pandora, 1881) had limited popularity.But in September 1886, his opera Dorothy achieved a huge success.It ran until December 1888 at the Gaiety, Prince of Wales's and Lyric Theatres:a total of 931 performances.During its run, Cellier traveled to Australia where he conducted The Mikado, Dorothy and other works between 1886 and 1888.
His final full-length operas, Doris (1889) and The Mountebanks (January 4, 1892, book by W. S. Gilbert) had more modest runs of 202 and 229 performances respectively at the Lyric.The Mountebanks was performed posthumously, Alfred Cellier having died before the overture could be composed.
---
C Index | "Who Was Who" Homepage
---