THE D'OYLY CARTE OPERA COMPANY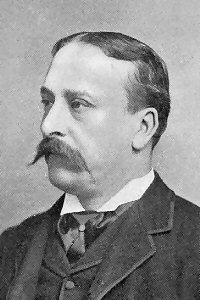 François Cellier
François Cellier (m.d., 1879-80, 1881-1903, 1905-1913)
[Born London 14 Dec 1849, died Kingston, London 5 Jan 1914]
François Arsène Cellier served over thirty years as Musical Director of D'Oyly Carte's London and Repertory Companies.The younger brother of Alfred Cellier, he took over the position of Musical Director at the Opera Comique in October 1879, about the time his sibling was preparing for the first D'Oyly Carte tour of America.His brother reclaimed the position upon his return in July 1880, but François was to assume the duties again in April 1881.
Cellier remained as Musical Director at the Opera Comique and the Savoy for the next 21 years.During his tenure, he also served as co-Musical Director at Carte's Royal English Opera House for the runs of Ivanhoe and The Basoche in 1891-92, while Ernest Ford filled in on occasion at the Savoy as Assistant Musical Director.
In April 1902 Cellier took the Gilbert & Sullivan operas, as well as The Rose of Persia, in repertoire to South Africa with a D'Oyly Carte touring company.He left the D'Oyly Carte organization upon his return to England in May 1903.During his absence from the Company his work included conducting his new operetta Bob (words by Cunningham Bridgeman) at the Adephi (June 1903), and a comic opera called Ladyland at the Avenue (December 1904).Two years later (July 1905) he was back with the D'Oyly Carte Repertory Opera Company:remaining with the organization as its Musical Director until retiring in May 1913.His service included directing the highly successful First and Second London Repertory Seasons, in 1906-07 and 1908-09 respectively.
François Cellier also composed several of the small one-act operas that accompanied the full-length works on the Savoy bill.His compositions included Mrs. Jarramie's Genie (written jointly with brother Alfred Cellier, and performed with several operas at the Savoy between 1887 and 1889), Captain Billy (performed with The Nautch Girl and The Vicar of Bray in 1891 and 1892), Old Sarah (with The Yeomen of the Guard, The Grand Duchess of Gerolstein, and The Gondoliers, 1897-98), and Pretty Polly (with The Rose of Persia and Patience, 1900-01).Bridgeman & Cellier's Bob was not performed at the Savoy, but was performed by D'Oyly Carte touring companies in 1903-04.
Following his retirement as Musical Director, he devoted himself to writing a book of reminiscences about Gilbert, Sullivan, and the D'Oyly Carte.Sadly, François Cellier died in January 1914. The book ("Gilbert and Sullivan and Their Operas") was completed by his collaborator, Cunningham Bridgeman, and published later that year.
François Cellier was held in high regard by Sir Arthur Sullivan, whose will left to Cellier the original manuscript scores for The Pirates of Penzance and Patience.
---
C Index | "Who Was Who" Homepage
---