THE D'OYLY CARTE OPERA COMPANY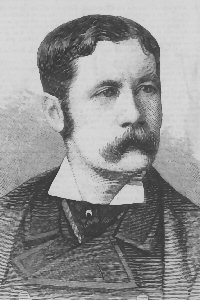 Hamilton Clarke
Hamilton Clarke (m.d., 1878)
[Born Birmingham 25 Jan 1840, died Banstead 9 Jul 1912]
The composer of over 600 musical works, of which some 400 were published, James Hamilton Siree Clarke is little remembered today, and not for any of his original works.He began his musical career as an organist at Queen's College, Oxford, in 1866, where he also served as conductor of the Queen's College Musical Society.He succeeded Arthur Sullivan as organist at St. Peter's, South Kensington, in 1872 but shortly left to become a theatrical conductor.
In October 1875 Clarke replaced Benjamin Simmonds as musical director during the first run of Trial by Jury at the Royalty Theatre, London, when Charles Morton succeeded Richard D'Oyly Carte as general manager.Trial ran until December, then transferred to the Opera Comique in January 1876 where it ran until May.While Clarke's engagements at the Royalty and Opera Comique were not technically under D'Oyly Carte management, he ultimately spent eight months as a D'Oyly Carte musical director, serving in that capacity with Carte's touring Comedy-Opera Company from March to November 1878, while the Company presented Trial, the first provincial production of The Sorcerer, and (beginning in September) the first provincial production of H.M.S. Pinafore.
Over the next ten years Clarke supplemented his own work by assisting Sullivan with his.He arranged musical selections from H.M.S. Pinafore and The Pirates of Penzance for the Promenade Concerts at Covent Garden, produced an ultimately unused overture for Iolanthe, provided overtures for the 1884 revival of The Sorcerer and the new productions of The Mikado and Ruddygore, and assisted in the arrangement of Sullivan's cantata The Golden Legend.
In 1889 he traveled to Australia where he conducted the Victorian Orchestra of Melbourne.He returned to England in 1892, composed more music for the theatre, and resumed conducting (Carl Rosa Opera Company, 1893).One of his last compositions was the one-act operetta The Outpost, produced by the D'Oyly Carte Opera Company at the Savoy in July 1900.It ran as curtain raiser to The Pirates of Penzance and Patience until December of that year, and was also performed on tour by the D'Oyly Carte Repertoire Opera Company "C" in 1901-02.Failing eyesight forced Clarke into retirement around 1901.
Hamilton Clarke also wrote several books and articles about orchestration, as well as some fiction and a number of his own lyrics.For a more detailed account of his life and career, see Philip Scowcroft's article, "Hamilton Clarke," in Sir Arthur Sullivan Society Magazine No. 22 (Spring 1986).
---
C Index | "Who Was Who" Homepage
---