THE D'OYLY CARTE OPERA COMPANY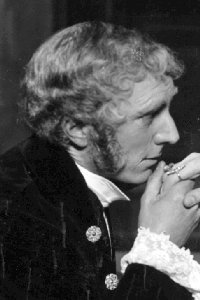 Gordon Cleather as Sir Marmaduke Pointdextre in The Sorcerer
Gordon Cleather (1919-20, 1921-22)
[Born Cagliari, Sardinia 12 Nov 1872, died 27 Feb 1967]
Edward Gordon Cleather was an established star nearing the end of his career on the London Stage when he joined the D'Oyly Carte Repertory Opera Company as guest artist for two London seasons at the Princes Theatre.From September 29, 1919, to January 31, 1920, he appeared as Counsel to the Plaintiff in Trial by Jury, Sir Marmaduke Pointdextre in The Sorcerer, and Florian in Princess Ida. When the Company returned to the Princes Theatre from October 1921 to April 1922, Cleather returned to guest again as Counsel.This time, however, the roles of Sir Marmaduke and Florian were taken by Darrell Fancourt and Sydney Granville, respectively.
Cleather's first named part on the London Stage appears to have been Mirtillo in Purcell's Masque of Love at the Great Queen Street Theatre in March 1902.From 1904 until 1912 he was a regular in West End musicals, appearing in My Lady Molly, Veronique, The Cingalee, Lady Madcap, The Little Michus, The Gipsy Girl, and The Merry Widow, among others.
From 1913 onwards Cleather's stage appearances were more limited, his having in that year become Professor of Singing at the Guildhall School of Music.His engagements with the D'Oyly Carte were his last on the London Stage.
---
C Index | "Who Was Who" Homepage
---