THE D'OYLY CARTE OPERA COMPANY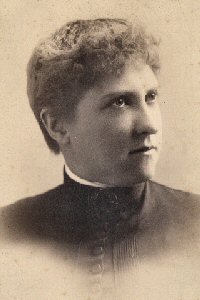 Laura Clement
Laura Clement (1878, 1880-82, 1883, 1885)
[Born London 1858, died Bronx, New York 4 Nov 1932]
Laura Clement appeared in her first D'Oyly Carte program as Lady Viola in The Spectre Knight at the Opera Comique, replacing Giulia Warwick during the initial run of The Sorcerer in February 1878. At some point between May and July 1878 (when The Spectre Knight played with H.M.S. Pinafore), she was replaced as Viola by Alice Burville.
Her next appearance with the Company was as Mabel in the first provincial production of The Pirates of Penzance with Mr. D'Oyly Carte's "B" Company (later "C" Company) from October 11, 1880, to December 17, 1881. She next performed on tour for the D'Oyly Carte organization as Constance in Claude Duval (January-March 1882), and as Josephine in H.M.S. Pinafore and Mabel ("B" Company, May-July 1882). After a break of eight months (during which she appeared at London's Avenue Theatre in Bucalossi's comic opera Les Manteaux Noirs), she joined Carte's No. 1 "Patience" Company in the title role (March 1883), but later that month transferred as Phyllis to Carte's No. 1 "Iolanthe" Company. She left the D'Oyly Carte organization again in September 1883.
Miss Clement returned again as Patience and Phyllis in April 1885, on tour with Mr. D'Oyly Carte's "C" Repertory Company until the tour ended in July of that year. In November 1885 she made her American debut as Yum-Yum in Boston with Carte's Second American Mikado Company. She was replaced by Louise Montague in December, ending her association with the D'Oyly Carte organization.
The following season she was in San Francisco, then returned to New York where she appeared in her best-known role, as the title character in She. She returned to London briefly in the autumn of 1889 as Margravine of Adelberg in La Prima Donna at the Avenue Theatre. By April 1890 she was back in America where her roles included Josephine in H.M.S. Pinafore (Criterion Theatre, Brooklyn). She later appeared for a number of years with American light opera companies including tours with Lillian Russell (as Nita in Gilbert & Cellier's The Mountebanks, among other roles, 1892-93), Mrs. Leslie Carter, Henry Miller, Grace George, Billie Burke, and Dave Henderson. Her only subsequent role in London was as Rose in the comedy Love Watches (Haymarket, May 1909).
---
C Index | "Who Was Who" Homepage
---