THE D'OYLY CARTE OPERA COMPANY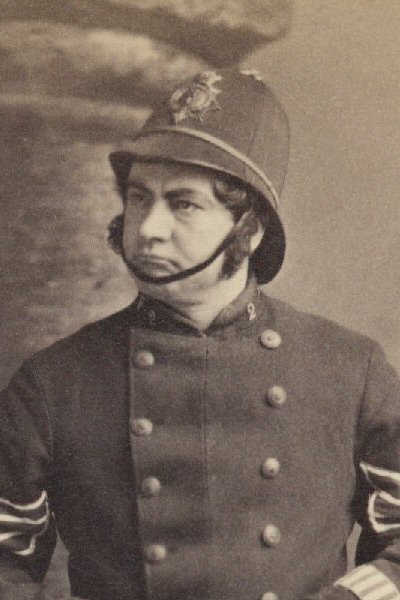 Fred Clifton as the Sergeant of Police in The Pirates of Penzance
Fred Clifton (1877-80)
[Born Birmingham, England 29 May 1844, died Boston, Massachusetts 7 Sep 1903]
Fred Clifton made his first dramatic appearance in 1861 at the Theatre Royal, Reading.In 1865 he accepted an engagement as musical lecturer and entertainer at the Royal Polytechnic Institute, followed by a similar engagement at the Crystal Palace.In 1868 he appeared in his first London opera, as Krakwitz in Offenbach's The Last of the Paladins, and subsequently appeared at the Criterion Theatre, the Egyptian Hall, the Royalty, Alhambra, and Gaiety Theatres, and the Crystal Palace before being engaged by D'Oyly Carte for the original production of The Sorcerer.
He created the role of the Notary in The Sorcerer at the Opera Comique in November 1877, and also played the Usher in Trial by Jury and the Grand Duke in Cellier's The Spectre Knight, the one-act companion pieces that filled the Opera Comique bill from February to August 1878.In May 1878 he created the role of Bill Bobstay in H.M.S. Pinafore, a role he maintained until October 1879.
The following month he accompanied Gilbert, Sullivan, and Carte to New York where, on December 1, 1879, he appeared at the Fifth Avenue Theatre as Bobstay in the first "authentic" production of H.M.S. Pinafore seen by an American audience.On December 31, 1879, he created the part of the Sergeant of Police there in the New York premiere of The Pirates of Penzance, playing the Sergeant in New York and on a tour with Carte's First American Company through June 1880.
It appears that Fred Clifton remained in America after that.He was not in the cast that returned to the Opera Comique. (Rutland Barrington took the part of the Sergeant with the London Company.) Clifton appeared in New York in several comic operas between 1884 and 1897, including a revivals of H.M.S. Pinafore (Standard Theatre, 1885), as Bill Bobstay, and The Pirates of Penzance (Broadway Theatre, 1890) as the Sergeant.
He was also the author of "A Theory of Harmony," published by Boosey, and reportedly composed incidental music for several works.
---
C Index | "Who Was Who" Homepage
---