THE D'OYLY CARTE OPERA COMPANY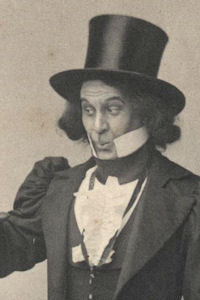 Edward Clowes as Sir Despard Murgatroyd in Ruddigore
Edward Clowes (1879-92, 1893)
[Born Hopton, Suffolk c.1842]
Edward Clowes was a chorister, understudy and small part player for a number of D'Oyly Carte touring companies from September 1879 to July 1885.From August 1885 until he left the D'Oyly Carte organization for good in November 1893 he toured in leading bass-baritone roles.
He had an undetermined role in the curtain raiser Number One Round the Corner (Second London Company, September-December 1879), and appeared as Joseph in In the Sulks ("D" Company, March-December 1880), Digby Chicken in Six and Six ("D," later "E," Company, December 1880-December 1881), Major General Stanley in The Pirates of Penzance (filling in with "E" Company, March-April 1881), Major Murgatroyd in Patience (Second "Patience" Company, December 1881-December 1883; "B" Company, January-June 1884; and "C" Company, July-December 1884, and April-July 1885), and Mr. Draper in Round and Square ("C" Company, April-July 1885).
Clowes then transferred to Carte's "D" Company in August 1885, replacing Fred Billington as Pooh-Bah in The Mikado as Billington was leaving for New York.Clowes would appear as Pooh-Bah with "E" Company (September 1885-January 1887), "A" Company (January-February 1887), "B" Company (December 1887-June 1888), and "C" Company (June 1888).From April 1887 to June 1888 (with "B" Company) he also played Sir Despard Murgatroyd in Ruddigore.
In January 1889 he returned to "B" Company, taking up Wilfred Shadbolt in The Yeomen of the Guard.The Mikado (Clowes as Pooh-Bah) was added to the tour from December 1889 until March 1890, when it was replaced by The Gondoliers (Clowes as Giuseppe).Gondoliers toured alone beginning in April, but Clowes left "B" Company in May, transferring to "E" Company as Giuseppe and (beginning in November 1890) Pooh-Bah.He left "E" Company in September 1891.
In November 1891 Clowes was back with D'Oyly Carte Opera Company "B," filling in as Shadbolt that month in Ashton-under-Lyne. By January 1892 he had assumed the part of the jailer full-time, along with Don Alhambra in The Gondoliers.In March he added Punka in The Nautch Girl, and in July had a brief go at the title role in The Vicar of Bray before leaving the Company later that month.
Clowes returned to "B" Company once more:appearing as Rupert Vernon in Haddon Hall from April to November 1893.
He was married to D'Oyly Carte chorister and small part player Ada Seaton.
---
C Index | "Who Was Who" Homepage
---