THE D'OYLY CARTE OPERA COMPANY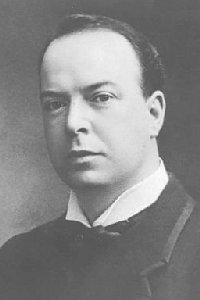 John Coates
John Coates (1894-95)
[Born Girlington, Yorkshire 29 Jun 1865, died Northwood, Middlesex 16 Aug 1941]
John Coates got his start in opera on tour with the Carl Rosa Company at Manchester and Liverpool.He was not particularly successful at first and undertook additional musical training as a baritone with English vocal teacher William Shakespeare in 1893.He was shortly engaged by D'Oyly Carte and sent to America where he appeared as Mr. Goldbury in Utopia Limited from March to June 1894 in New York and Boston.Returning to England, he created the part of Baron van den Berg with D'Oyly Carte's London Company in Messager's Mirette at the Savoy, July 3 to August 11, 1894.The opera was less than successful and the Savoy closed for eight weeks.When it reopened on October 6 with a revised version of Mirette, Coates had a new role:that of Francal.Mirette completed its second run on December 6, 1894, and Coates was sent on tour with Carte's Company "D" later that month.On tour he appeared as Mr. Goldbury in Utopia Limited, Tommy Merton in The Vicar of Bray, and Gerard de Montigny, his third role in Mirette.He left the tour, and the D'Oyly Carte organization, in February 1895.
There followed a series of engagements in musical comedy in London, the provinces, and a second visit to America with indifferent success.Convinced he was really a tenor and not a baritone, Coates gave up the stage temporarily in 1899 and began studying a variety of tenor parts in private.It was during this period that he brought out Sullivan's song "The Absent-minded Beggar" at the Alhambra Theatre in November 1899.
His fortunes began to change in November 1900 when he sang in The Gay Pretenders at the Globe Theatre in November 1900, and success seemed certain in 1901 when he created the part of Claudio in Stanford's Much Ado About Nothing at Covent Garden.He soon became one of the most popular festival singers in England, performing at Leeds in 1901, singing Elgar's "Dream of Gerontius" at Worcester in 1902, and singing Elgar's "Apostles" and "Kingdom," and Granville Bantock's "Omar Khayyám" at the Birmingham Festivals of 1903, 1906, and 1909, respectively.
He also was making a name for himself as an operatic tenor:first with the Moody-Manners Company in 1907-08, and then with the Beecham Companies of 1910 and 1911.He added both Siegfried roles from Wagner's Ring and Tristan to his repertoire and went on a tour of the U.K., South Africa, and Australia (1911-13).Despite being above military age, he served with the Yorkshire Regiment in World War I, spending a year at the front in France.Discharged with the rank of Captain, he resumed his professional career in 1919.After the war he was active principally as a concert singer, specializing in Elizabethan and Tudor composers.He appeared infrequently after 1930 and was wholly retired at the time of his death in 1941.
Coates was also a popular recording artist whose repertoire included one Gilbert & Sullivan number, "Take a Pair of Sparkling Eyes."He recorded it three times for three different labels:for G & T (1907), Pathe (c.1917), and Columbia (c.1918).The Columbia recording was reproduced on the Pearl 3-LP set "The Art of the Savoyard" (GEM 118/120), though not on the subsequent CD.
---
C Index | "Who Was Who" Homepage
---