THE D'OYLY CARTE OPERA COMPANY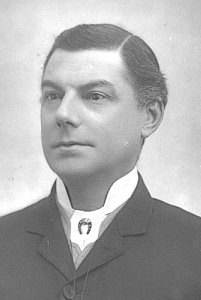 Charles Collette
Charles Collette (1875)
[Born London 29 Jul 1842, died 10 Feb 1924]
To describe Charles Collette's association with the D'Oyly Carte Opera Company as minimal would be to overstate it. Collette's farce, Cryptoconchoidsyphonostomata, was on the triple bill at the Royalty Theatre when Trial by Jury received its premiere on March 25, 1875. Collette himself appeared as Plantagenet Smith. It was the only night that Cryptoconchoidsyphonostomata and Trial appeared together.
Collette had a long and distinguished career on the London and Provincial Stages, extending from 1868, when he appeared at the old Prince of Wales's under the management of Marie Wilton (Lady Bancroft) in Tame Cats, to 1907 when he appeared as Mr. Micawber in David Copperfield, and at the Waldorf in In the Bishop's Carriage.Over the years he played in many Bancroft productions, including School, The School for Scandal, The Merchant of Venice, and Money. Later he played under various managers, notably J. L. Toole, John Hollingshead, Mary Anderson, Lydia Thompson, and Beerbohm Tree, among others, as well as touring his own companies.
He also appeared for a time on the concert platform and, towards the end of his career, on the variety stage.
---
C Index | "Who Was Who" Homepage
---