THE D'OYLY CARTE OPERA COMPANY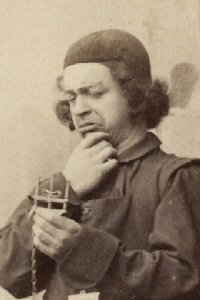 W. H. Denny as Wilfred Shadbolt in The Yeomen of the Guard
W. H. Denny (1876, 1888-93, 1893-94)
[Born Balsall Heath, Birmingham 22 Oct 1853, died Herne Bay, Kent 31 Aug 1915]
W. H. Denny, whose real name was William Henry Leigh Dugmore, got an early start in the theatre, appearing as the child in The Stranger in Worcester at the age of six. His mother, Mrs. H. Leigh, was the original Diana in Gilbert & Sullivan's Thespis (Gaiety, 1871).
Denny played juvenile parts for several years, tackling his first adult role in Dundee in 1870. His first London engagement was at Sadler's Wells Theatre in an 1872 revival of Mazeppa.After a series of Shakespearian parts and plays and comedies by H. J. Byron at the Gaiety, he was engaged by Richard D'Oyly Carte in 1876 for a tour as Trenitz in La Fille de Madame Angot, Barthel in The Duke's Daughter, and Tarapote in La Perichole. Denny then toured America for three years with Lydia Thompson, also appearing in Philadelphia under Mrs. John Drew.Returning to London in 1879, he appeared in a number plays with Marie Litton, John Hare and the Kendals, and was Angus Macalister in a November 1881 revival of W. S. Gilbert's Engaged at the Royal Court, before going on tour with Lillie Langtry in 1882. He was back in New York in 1884-85, but returned to London for parts at the Princess's and the Court in 1886-87.
Denny was rehired by D'Oyly Carte for the Savoy upon the departure of Rutland Barrington in 1888, and remained there until April 1893. He created the parts of Wilfred Shadbolt in The Yeomen of the Guard (October 1888), Don Alhambra in The Gondoliers (December 1889), Bumbo in The Nautch Girl (June 1891), Bedford Rowe in The Vicar of Bray (January 1892), and The McCrankie in Haddon Hall (September 1892). He left after the run of Haddon Hall was complete in April 1893, appearing briefly at the Prince of Wales's in a musical comedy called Poor Jonathan in June, before returning to the D'Oyly Carte and the Savoy to create the part of Scaphio in the penultimate Gilbert & Sullivan opera, Utopia (Limited) in October 1893. He left the Company at the end of the Utopia run in June 1894.
After leaving the Savoy he was seen again at the Prince of Wales's in 1895, and then at the Lyric, 1897, and later toured Australia and New Zealand in a Shakespeare company. He returned to London in 1900, but was back on the New York Stage from 1905 until 1910, appearing in several plays including the original New York productions of The Earl and the Girl and Henry Arthur Jones's The Hypocrites. He once more returned to London, making his last appearance in that city as Stuff, a theatre manager, in Walter Browne's Everywoman at Drury Lane in 1912.
W. H. Denny was also the author of several one-act plays, the most notable being A Mutual Mistake (first performed at the Court Theatre, London, March 1891). He was the father of popular film actor Reginald Denny.
---
D Index | "D'Oyly Carte Who Was Who" Home Page
---