THE D'OYLY CARTE OPERA COMPANY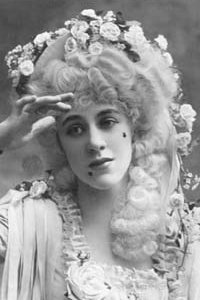 Clara Dow as Phyllis in Iolanthe
Clara Dow (1906-09, 1911, 1913-14)
[Born King's Lynn, Norfolk 29 Dec 1883, died Epsom, Surrey 26 Mar 1969]
Before joining the D'Oyly Carte Opera Company for what would be her theatrical debut, Clara Dow studied at the Royal College of Music and did extensive oratorio and concert work.
Miss Dow joined the D'Oyly Carte Opera Company for the First London Repertory Season at the Savoy, beginning December 8, 1906.The season started with The Yeomen of the Guard, with Miss Dow in the chorus. When The Gondoliers was revived on January 22, 1907, she was given the small part of Giulia, and (also in January) took over as Kate in Yeomen.
Her star was clearly on the ascent, and when the Company revived Patience on April 4, 1907, she was given the title role.Iolanthe was added on June 11, and Clara Dow took the part of Phyllis. She had also been giving occasional performances as Elsie Maynard in Yeomen and Gianetta in Gondoliers since January, and when Lillian Coomber left the Savoy in June 1907, Miss Dow added Elsie to her regular duties.She played Elsie, Patience, and Phyllis until the London season ended on August 24, 1907, then took a break before joining Carte's Repertory Opera Company on tour in November.
From November 1907 to April 1908, she toured as Josephine in H.M.S. Pinafore, Mabel in The Pirates of Penzance, Patience, Phyllis, Princess Ida in Princess Ida, Yum-Yum in The Mikado, Elsie, and Gianetta. In April 1908, she was back at the Savoy for the start of the Second London Repertory Season, appearing as Yum-Yum and (starting in October 1908) as Phyllis.By the end of October, however, she left the Savoy and returned to the touring Repertory Company the following month to resume the roles she had been playing on the road.
She toured with Carte's Principal Repertory Opera Company as Josephine, Mabel, Patience, Phyllis, Princess Ida, Yum-Yum, Elsie, and Gianetta from November 1908 until November 1909. She then left the D'Oyly Carte organization for a year and a half, returning to the same parts for two months (July-September) in 1911.She was engaged for her final stretch with the Repertory Company in July 1913, and toured in the same eight parts until December 1914. (Between D'Oyly Carte engagements, she had appeared at the Coliseum in The Dancing Viennese in July 1912.)
Clara Dow retained her love of Gilbert & Sullivan throughout her life, producing operas for amateur societies after she left the stage. When she died in 1969 at age 85, the Gilbert & Sullivan Journal reported that she had been a faithful member of the audience at D'Oyly Carte London seasons "in recent years."
---
D Index | "D'Oyly Carte Who Was Who" Home Page
---