THE D'OYLY CARTE OPERA COMPANY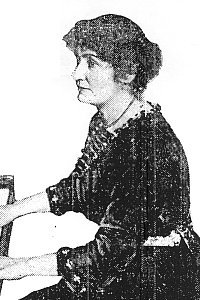 Mrs. Perle Wilkinson
Perle Dudley (1885-86)
[Born Greencastle, Indiana 1862, died New York City 6 Dec 1950]
Perle Dudley made her first hit on stage in 1882 in a tour of Charles Frohman's production of Hazel Kirke. She then became the piano accompanist for Emma Eames at the latter's first appearance in Boston, and later for Sarah Bernhardt in a program of readings.
Miss Dudley was Peep-Bo with D'Oyly Carte's Second American Mikado Company in Boston from November 1885 until January 1886 when she was replaced by Edith Jennessee. Her husband, Arthur Wilkinson, was the Mikado in the same production.It was Miss Dudley's only D'Oyly Carte role, though it's reported that she also worked with the Carte organization as chorus mistress as well during her husband's years with the Company.
In the early 1890s she was chorus mistress at the Lyric and Prince of Wales's Theatres in London. After her husband died in 1894, she returned to America, and was supervisor of music for Indianapolis public schools, and later at the Ethical Culture Schools in New York City. For more than 20 years she held administrative positions at the House of Refuge on Randall's Island, New York, and at the Reformatory for Women in Sherborn, Massachusetts. Her extracurricular activities there included coaching the inmates (poor wand'ring ones?) in Gilbert & Sullivan.
A full-page article in The New York Times, "Women 'Doing Time' Give 'The Pirates of Penzance'," on June 21, 1914, describes one of Mrs. Wilkinson's prison productions at Sherborn. That article was the inspiration for the novel "Gilbert & Sullivan Set Me Free" by Kathleen Karr (Hyperion Books for Children, 2003).
---
D Index | "D'Oyly Carte Who Was Who" Home Page
---