THE D'OYLY CARTE OPERA COMPANY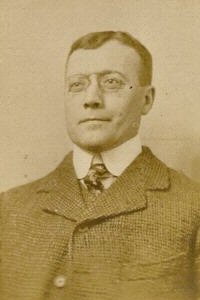 Fred G. Edgar
Fred G. Edgar (1890-1904, 1906-09, 1914, 1916-19, 1921-22)
[Died 1930]
Fred G. Edgar had a long career with the D'Oyly Carte organization spanning thirty-six years as chorister, understudy, small part player, and publicity manager.He was in the chorus of Carte's New York Gondoliers Company (January-April 1890) and, later that year (September-December), of D'Oyly Carte Opera Company "D."Edgar joined D'Oyly Carte Opera Company "C" as chorister at some point thereafter, appearing in April-May and September 1893, and January, April, and October 1894, as Major Murgatroyd in Patience while Frank Holt was filling in as Reginald Bunthorne.In April and May 1896 he was Mr. Cox in Cox and Box and Major Murgatroyd again while Holt was once more deputizing in the comic baritone roles.
Edgar then joined the D'Oyly Carte's first tour of South Africa in December 1896.From April 1897 until the tour ended in June of that year he took the small roles of Major Murgatroyd, First Citizen in The Yeomen of the Guard and Tarara in Utopia Limited.He rejoined Company "C" in August, this time as the Foreman of the Jury in Trial by Jury and Tarara in Utopia.
Beginning in December 1897, he played the Foremen, the Major, Annibale in The Gondoliers, and Tarara with Compnay "C."He gave up Annibale in January 1899, but appeared briefly as the Duke of Plaza-Toro in The Gondoliers in March of that year. During 1900 he appeared regularly as the Major and Tarara, and filled in on occasion as the Duke of Plaza-Toro for the leading comic baritone, C. Herbert Workman.In 1901 Edgar's named parts were limited to the Major in Patience and Walter in the companion piece The Outpost.In 1902-03 he appeared as Walter, and, from time to time, as Major Murgatroyd (February and November 1902, August 1903), the Duke of Plaza-Toro (February 1902), and Ko-Ko in The Mikado (September and December 1902).
We lose track of Edgar between August 1903 and August 1906 when he began appearing as the Major and First Citizen with the D'Oyly Carte Principal Repertory Opera Company.He retained those roles on tour through April 1908, also filling in now and then as Duke of Plaza-Toro (1907-08).During the Second London Repertory Season at the Savoy (April 1908-March 1909), Edgar appeared regularly as First Citizen when The Yeomen of the Guard was played in March 1909, and made occasional appearances as Ko-Ko (January-February 1909), the Duke in Gondoliers (February 1909), Sir Joseph Porter in H.M.S. Pinafore (February 1909), and Jack Point in Yeomen (March 1909).
Edgar reappeared from March to June 1914 with the D'Oyly Carte Repertory Opera Company as the Foreman in Trial.In June 1916 he took over as Foreman again, and in July 1917 added Annibale.In June 1919 he left the stage to become the Company's publicity manager, a post he held until July 1926.He did, however, return to the D'Oyly Carte chorus for the July 1921-June 1922 season.
He was married to D'Oyly Carte contralto Amy Royston.
---
E Index | "Who Was Who" Homepage
---