THE D'OYLY CARTE OPERA COMPANY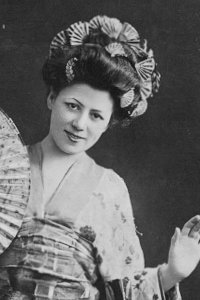 Lulu Evans as Pitti-Sing in The Mikado
Lulu Evans (1897-1901, 1903-04, 1906-07)
[Born Standon, Hertsfordshire 31 Oct 1875, died 1925]
Lulu Evans was a member of the D'Oyly Carte chorus at the Savoy in November 1897 and appears to have remained at the Savoy until October 1901.During this time she was Giulia in the July 1898 revival of The Gondoliers, made occasional appearances as Constance in The Sorcerer (December 1898) and Hebe in H.M.S. Pinafore (August-September 1899), took the roles of Edith in the July 1900 revival of The Pirates of Penzance, the Lady Saphir in the November 1900 revival of Patience, Kate in the curtain-raiser The Outpost that played with Pirates and Patience, and Nora in the original production of The Emerald Isle in April 1901.She left the Company in October 1901 and was succeeded as Nora by Winifred Hart Dyke. During her absence Miss Evans traveled to New Zealand where she appeared as "Heart's Desire" in The Rose of Persia with Pollard's Opera Company in March 1902.
She returned to the D'Oyly Carte fold in March 1903, joining the D'Oyly Carte Repertoire Opera Company "C" as its principal soubrette, touring until January 1904 as Edith in The Pirates of Penzance, the Lady Angela in Patience, Iolanthe in Iolanthe, Melissa in Princess Ida, Pitti-Sing in The Mikado, Phoebe Meryll in The Yeomen of the Guard, Tessa in The Gondoliers, and Minnie Hill in Cellier & Bridgeman's one-act companion piece, Bob.
After another gap in service, she rejoined Company "C," shortly to be redesignated as the D'Oyly Carte Repertory Opera Company, in October 1906.She toured as Hebe, Edith, Angela, Iolanthe, Melissa, Pitti-Sing, Phoebe, and Tessa until June 1907 when she left the D'Oyly Carte organization for the final time.
---
E Index | "Who Was Who" Homepage
---