THE D'OYLY CARTE OPERA COMPANY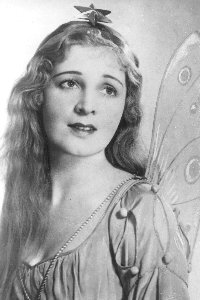 Marjorie Eyre as Iolanthe in Iolanthe
Marjorie Eyre (1924-46)
[Born Derby 1897, died Brighton 3 Dec 1987]
Marjorie Eyre (whose full surname was Eyre-Parker) joined the D'Oyly Carte Repertory Opera Company as a soprano chorister in August 1924, also appearing in the small part of Giulia in The Gondoliers during her first six months.She transferred to the D'Oyly Carte "New" Opera Company in March 1925, where in July of that year she was given her first major role, Yum-Yum in The Mikado, and two minor ones, the Lady Ella in Patience and Celia in Iolanthe. Miss Eyre moved up to Phyllis in Iolanthe for a month or so (November-December 1925), but reverted to Celia in January 1926, when she meanwhile took over the title role in Patience.
The "New" Company changed its limited repertoire for the 1926-27 season (dropping The Mikado and Iolanthe while adding Ruddigore and The Gondoliers), and Marjorie Eyre took on Rose Maybud and Gianetta in the new operas.She also played Patience in Patience for most of the season (except for a stretch between October and December when the role was taken by Irene Hill).It was also during 1926 that she married fellow D'Oyly Carte artist, principal baritone Leslie Rands.
After the "New" Company was disbanded in June 1927, Miss Eyre joined the main Company where from January 1928 until June 1929 she shared the principal soprano roles of Patience (with Winfred Lawson and Irene Hill), Phyllis (with Lawson and Hill), Yum-Yum (with Hill and Blossom Gelsthorpe), Rose (with Hill), and Gianetta (with Lawson). After the 1928-29 North American tour, Rupert D'Oyly Carte decided that Miss Eyre's future lay not as a soprano, but as a mezzo-soprano.She made a few appearances as Tessa in The Gondoliers upon her return to England and was sent to a "singing master" to slightly lower her range and prepare her for her next assignment.
On July 29, 1929, Marjorie Eyre began the new season as principal soubrette, taking Hebe in H.M.S. Pinafore, Edith in The Pirates of Penzance, Saphir in Patience, Iolanthe in Iolanthe, Pitti-Sing in The Mikado, Mad Margaret in Ruddigore, and Tessa in The Gondoliers.She gave up the latter four roles temporarily from October 1929 to May 1930, when the popular Nellie Briercliffe was reengaged for the London season at the Savoy and for a short time thereafter, but added Constance in The Sorcerer at the same time.When Miss Briercliffe left in May 1930, Miss Eyre assumed all the principal soubrette roles:Constance, Hebe, Edith, Lady Angela in Patience, Iolanthe, Melissa in Princess Ida, Pitti-Sing, Mad Margaret, Phoebe Meryll in The Yeomen of the Guard, and Tessa.
Marjorie Eyre continued as the principal soubrette with D'Oyly Carte Opera Company until "retiring from the stage" in August 1946.Apart from the occasional night off, the only roles she ever relinquished for so much as a season were Iolanthe (1934-35 and 1936-37 to Elizabeth Nickell-Lean), Edith (1945-46 to several artists), and Pitti-Sing (1944-45 to Ivy Sanders, and January 1946 onwards to Sybil Ghilchik).Somewhat surprisingly, her only recorded roles with the D'Oyly Carte were Lady Saphir in the 1930 Patience and Pitti-Sing in the 1936 Mikado.
When Leslie Rands joined his wife in retirement in 1947, The Gilbert & Sullivan Journal reported that "one hears of farming pursuits likely to engage their attention at their delightfully situated new home in Sussex."But, how're you going to keep 'em down on the farm?In 1949, Rands and Eyre joined fellow senior Savoyards Richard Walker, Helen Roberts, John Dean, and Anna Bethell and headed for Australia where they were engaged by Frank Tait for another tour of Gilbert & Sullivan.
Miss Eyre maintained her interest in Gilbert & Sullivan throughout her life.At the time of her death in 1987, at the age of 90, she was a Vice-President of the Gilbert & Sullivan Society.
---
E Index | "Who Was Who" Homepage
---