THE D'OYLY CARTE OPERA COMPANY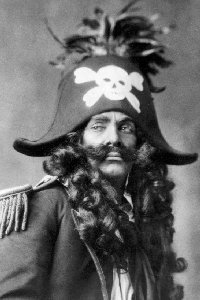 Darrell Fancourt as The Pirate King in The Pirates of Penzance
Darrell Fancourt (1920-53)
[Born Kensington, London 8 Mar 1886, died London 29 Aug 1953]
Darrell Fancourt, whose real name was Darrell Louis Fancourt Leverson, was educated at Bedford School, received his musical training at the Royal Academy of Music and later in Germany. He was gaining a reputation on the concert platform in London, the British provinces, and the European continent when World War I interrupted his career.
After the war he resumed his musical studies, this time with Sir Henry Wood, and made his only appearance in grand opera:as Prince Galitsky in a single performance of Prince Igor at Covent Garden in July 1919. Fancourt joined the D'Oyly Carte Repertory Opera Company in May 1920 as understudy and shortly replacement for Frederick Hobbs. During May and June 1920 Fancourt filled in for Hobbs on occasion as the Pirate King in The Pirates of Penzance, the Earl of Mountararat in Iolanthe, Arac in Princess Ida, the Mikado of Japan in The Mikado, and Sergeant Meryll in The Yeomen of the Guard. When the new season began in July 1920 Fancourt took all these roles as his own, as well as Dick Deadeye in H.M.S. Pinafore, Colonel Calverley in Patience, and Sir Roderick Murgatroyd in Ruddigore. In July 1921, when Cox and Box and The Sorcerer were added to the repertoire, Fancourt added Sergeant Bouncer and Sir Marmaduke Pointdextre respectively.
Most of these roles would be his for the remainder of a distinguished D'Oyly Carte career, which lasted until July 1953. He also appeared as the Usher in Trial by Jury during the 13-week September-December 1926 London season. Fancourt yielded Sergeant Bouncer to Richard Walker during the 1935-36 season, though he did return to the part briefly in 1937-38, sharing it with Walker that season.
In the late 1940s and early '50s, Fancourt's health began to fail, and he was likely to take the occasional night off, with Radley Flynn and, later, Ivor Evans filling in. But it wasn't until the 1950-51 season when he actually relinquished a part in a full-length opera:that of Mountararat in Iolanthe to Eric Thornton.
Though a tired and sick man in his final season, Fancourt carried on valiantly until July 27, 1953, when he gave his last performance as Sergeant Meryll at Sadler's Wells Theatre. He had hoped to end his career on the last night of the season (August 1), singing the title role in The Mikado. It was a part he had sung over 3,000 times, but he was unable to appear at the end. He died just 33 days after giving his last performance.
He was married to Eleanor Evans, a D'Oyly Carte chorister and later Stage Director/Director of Productions.
Darrell Fancourt participated in 19 D'Oyly Carte recordings between 1923 and 1950. He may be heard as Mountararat in Iolanthe (1922, shared with HMV artist Peter Dawson, and 1930), Dick Deadeye in H.M.S. Pinafore (1922, shared with Frederick Hobbs, 1930, and 1949), Sir Roderick in Ruddigore (1924, 1931, and 1950), Arac in Princess Ida (1925 and 1932), Colonel Calverley in Patience (1930 and 1952), Sir Marmaduke in the abridged The Sorcerer (1933), the Mikado in The Mikado (1926, 1936 and 1950), the Pirate King in The Pirates of Penzance (1931 abridged set and 1950), and Sergeant Meryll in The Yeomen of the Guard (1950). He also sang the title role in a 1926 BBC radio broadcast of The Mikado, and may be seen in that role, however briefly, in a four-minute silent promotional film made of the D'Oyly Carte Mikado in 1926.
---
F Index | "D'Oyly Carte Who Was Who" Home Page
---