THE D'OYLY CARTE OPERA COMPANY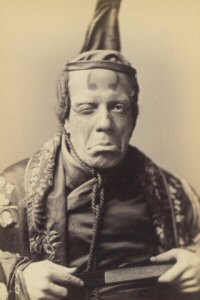 Frederick Federici as The Mikado of Japan in The Mikado
Frederick Federici (1879-87)
[Born Florence, Italy, 1851, died Melbourne, Australia 3 Mar 1888]
Frederick Federici was born Frederick Baker in Florence, Italy. He took his first named part in a D'Oyly Carte production in July 1879 when he took over as Captain Corcoran in H.M.S. Pinafore with "B" Company, from August forward known as Mr. D'Oyly Carte's "2nd 'Pinafore'" Company. Federici continued to appear as the Captain until March 1880 when the part was taken over by William Hogarth, Federici taking Bill Bobstay. Federici appeared in the single copyright performance of The Pirates of Penzance in Paignton on December 30, 1879, as the Pirate King. In August 1880 he appeared for a short time as Mr. Liverby in In the Sulks, the curtain raiser that accompanied H.M.S. Pinafore.
In December 1880 he transferred to Mr. D'Oyly Carte's "D" Company where he played Captain Corcoran again for less than a fortnight. On December 27, 1880, "D" Company took up The Pirates of Penzance, with Federici as Samuel. "D" Company became "E" Company on March 7, 1881, continuing to tour Pirates. Federici reclaimed the Pirate King in July (upon G. Byron Browne's departure), and on December 5, 1881, the Company (now Carte's "No. 2 'Patience' Company") took up Patience with Federici as Colonel Calverley.
Federici toured with "No. 2 'Patience'" until February 1883 when he joined a new company:Mr. D'Oyly Carte's No. 1 "Iolanthe" Company as Strephon. He played Strephon with No. 1 "Iolanthe" until the tour ended in December 1883. The following February he had a new role in a another new company:Florian with Carte's "Princess Ida" No.1 Company ("D" Company) in the first provincial production of the "respectful operatic per-version of Tennyson's 'Princess.'" They toured Princess Ida exclusively until December 6, 1884.
When "D" Company returned to action on February 23, 1885, Trial by Jury and The Sorcerer had joined Princess Ida in the schedule. Federici played the Counsel to the Plaintiff in Trial and Sir Marmaduke Pointdextre in Sorcerer. On July 27, 1885, the Company performed The Mikado for the first time with Federici in the title role, and the following month, after appearing in Liverpool, Federici was one of several cast members to head for New York to give The Mikado to an American audience at the Fifth Avenue Theatre.
Federici played the title role with Carte's First American Mikado Company for the duration of the tour:until May 1886, when he returned to England for two weeks of Pinafore and Mikado (as Deadeye and the Mikado) before taking The Mikado on a tour of Germany and Austria. The Continental Company tour lasted until January 1887.
In February 1887 he made his only appearance at the Savoy as Sir Roderick Murgatroyd in two matinee performances of Ruddigore, before heading back to New York where he played Roderick until April with Carte's First American Ruddygore Company. It was his last role under D'Oyly Carte auspices.
Federici next headed for Australia where he appeared on July 16, 1887, at the Princess's Theatre, Melbourne, as Florian in the first Australian production of Princess Ida. In August 1887 he appeared at the same theatre as Harry Sherwood in Cellier's Dorothy.
On March 3, 1888, at the close of the first night of Gounod's Faust at the Princess's Theatre, Federici sang his final note as Mephistopheles and, while descending through a trapdoor into the "inferno" below, collapsed and died of heart failure. It has been written that Federici foretold his death ("I will give a fine performance to-night, but it will kill me."). Others have said that the clegyman officiating at Federici's funeral collapsed, couldn't finish the service, and died himself the next day. And even today it is believed that Federici's ghost still haunts the Princess's Theatre.
Frederick Federici was also an author and songwriter. His song "Dearer than all to me" was sung by Kate Forster in a charity concert aboard the R.M.S. Aurania enroute to America in 1885. He was married to fellow D'Oyly Carte artist Lena Monmouth.
---
F Index | "D'Oyly Carte Who Was Who" Home Page
---