THE D'OYLY CARTE OPERA COMPANY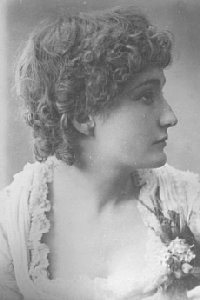 Josephine Findlay
Josephine Findlay (1882-84, 1885-87, 1890)
Josephine Findlay began her D'Oyly Carte career in April 1882 as Isabel with Mr. D'Oyly Carte's No. 1 "Pirates" Company. She also appeared as Marianne Sandford in A Silent Woman, a play without music that served as a companion piece during a portion of the tour, and as Mrs. Lionel Jones in the one-act "musical eccentricity" My Luck in October of that year.
She was then promoted to principal soprano, touring as Phyllis in Iolanthe with Carte's "Iolanthe" No. 2 Company (December 1882-February 1884), Patience in Patience with Carte's "C" ("Patience" No. 1) Company (March-July 1884), and Princess Ida in Princess Ida with Carte's "A" ("Princess Ida" No. 2, August 1884) and "D" ("Princess Ida" No. 1, September 1884) Companies. After a break of nearly a year, she returned to "D" Company as Yum-Yum in The Mikado (July-August 1885). She then went to New York where she understudied Geraldine Ulmar as Yum-Yum for a few months (August-October 1885) with Carte's First American Mikado Company.
Miss Findlay returned to England where she was engaged at the Savoy as understudy to Leonora Braham. While at the Savoy she took the part of Amanda in the curtain raiser The Carp (February-September 1886), and went on for Miss Braham as Yum-Yum in December 1885-January 1886 and September-October 1886. In January 1887 she created the small part of Zorah in Ruddigore and in March took over from Miss Braham as Rose Maybud. In May, when Geraldine Ulmar arrived from America to play Rose at the Savoy, Miss Findlay joined the D'Oyly Carte Company touring the European continent. There she appeared as Patience and Yum-Yum until October 1887 when she left the D'Oyly Carte organization.
He next role in London was Zara in E. L. Blanchard and Cunningham Bridgman's comic opera Carina (Opera Comique, September 1888). She later appeared on tour as Roselle in the extravaganza Randolph the Reckless. Miss Findlay returned to the D'Oyly Carte one last time, playing Gianetta in The Gondoliers from August to December 1890 on tour with D'Oyly Carte Opera Company "C."
She appeared in London once more, as Señora Inez in the "operatic comedy" Miss Decima (Criterion, July 1891).
---
F Index | "D'Oyly Carte Who Was Who" Home Page
---