THE D'OYLY CARTE OPERA COMPANY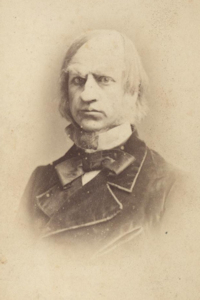 Walter H. Fisher as the Right Honourable Mr. G in The Happy Land
Walter H. Fisher (1875, 1876, 1883, 1887-88, 1889)
[Born Bristol c.1849]
Walter Henry Fisher made his London Stage debut as Ambroise in the play Broken Spells (Court Theatre, 1872). Among his memorable roles was the "Right Honourable Mr. G" in the first production of W. S. Gilbert's burlesque The Happy Land (Court Theatre, 1873). Fisher's imitation of Prime Minister Gladstone was appreciated by audiences but not, it seems, by the Lord Chamberlain, who caused the work to be revised. After several comedy roles on the legitimate stage Fisher made his first appearance in light opera as Marasquin in Girofle-Giroflá (Opera Comique, 1874).
Fisher was on the program in two of the three works in the first D'Oyly Carte production at the Royalty Theatre, London, March 25, 1875. He created the role of the Defendant in Trial by Jury, and was Piquillo in Offenbach's La Perichole, remaining in the cast until May 1876. He appeared again as the Defendant and Piquillo on tour with "Mr. R. D'Oyly Carte's Opera Bouffe Company" (June-August 1876), while also taking a leading tenor role in La Fille de Madame Angot, and playing the Costermonger in Carte's own one-act "musical pastoral" Happy Hampstead.
Notable among his subsequent roles was Bedford Rowe in the original production of The Vicar of Bray at the Globe Theatre in July 1882.
A versatile singer, Fisher could manage both tenor and baritone roles. His next appearances under D'Oyly Carte auspices were as Archibald Grosvenor in Patience with Mr. D'Oyly Carte's No. 1 "Patience" Company (September-December 1883) and Carte's "D" Company (October 1887). He then transferred to Carte's "E" Company where he was Captain Corcoran in H.M.S. Pinafore (December 1887-June 1888) and Samuel in The Pirates of Penzance (April-June 1888).
In June 1888, with turnover in the "E" Company cast, Fisher reverted to tenor parts, appearing as Frederic in The Pirates of Penzance and Nanki-Poo in The Mikado until September of that year when he was replaced by Frank Boyle. Fisher had one more engagement with the D'Oyly Carte organization:with D'Oyly Carte Opera Company "C" in 1889:as Leonard Meryll from June to November, and as a stopgap Colonel Fairfax for the last week of the tour in December.
---
F Index | "D'Oyly Carte Who Was Who" Home Page
---