THE D'OYLY CARTE OPERA COMPANY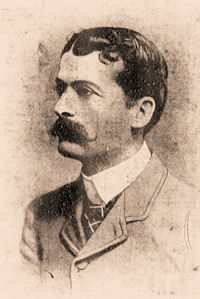 Ernest Ford
Ernest Ford (a.m.d., 1888-93)
[Born Warminister, Wilts. 17 Feb 1858, died London 2 June 1919]
Ernest A. Claire Ford was a chorister at Salisbury Cathedral from 1868 to 1873. In 1875 he won the first Goss Scholarship at the Royal Academy of Music, where he studied under Sullivan. After further study in Paris, he traveled to America where, in 1886, a motet by him was performed as the chief work in a celebration of the 250th anniversary of the founding of Harvard University. Returning to England, Ford served for a time as the accompanist at the Saturday Popular Concerts at St. James's Hall, London.
He was assistant musical director for the D'Oyly Carte Opera Company from October 1888 to September 1893. During his tenure with the Company he also conducted Sullivan's grand opera Ivanhoe for Carte at the Royal English Opera House, and arranged the piano score for Ivanhoe as well. Ford composed two works that were performed by the D'Oyly Carte at the Savoy--Mr. Jericho, a one-act companion piece that received its premiere in March 1893 on the bill with Sullivan's Haddon Hall, and Jane Annie, a full-length work with book by J. M. Barrie and Arthur Conan Doyle (Savoy, March-July 1893, then on tour until September).
Ford left the D'Oyly Carte organization once Jane Annie had completed its run. He went on to serve as musical director at the Trafalgar Square and Empire Theatres, then, in 1897, became conductor of the Royal Amateur Orchestral Society. For the Empire he composed the ballets La Frolique, Brighton Pier, Faust, and La Danse.
In addition to his compositions for the Savoy and the Empire, his works included the operatic Daniel O'Rourke (1884), Nydia (1889), Joan (Opera Comique, 1890) and Weatherwise (Lyric, 1893); and a cantata, The Eve of the Festa; as well as songs and chamber music.
Ford wrote a chapter on "Sullivan as Composer," published in 1903 as part of H. Saxe Wyndham's biography of Sullivan. Two years before his death, Ford was appointed professor of composition at the Guildhall School of Music.
---
F Index | "D'Oyly Carte Who Was Who" Home Page
---