THE D'OYLY CARTE OPERA COMPANY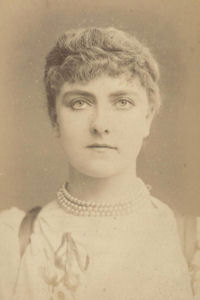 May Fortescue as The Lady Ella in Patience
May Fortescue (1881-83)
[Born London 9 Feb 1859, died London 2 Sep 1950]
Miss Fortescue, whose real name was Emily May Finney, made her stage debut with the D'Oyly Carte Opera Company in London at the Opera Comique as the Lady Ella in the first production of Patience in April 1881. She moved with the Company to the Savoy in 1882, and created the small part of Celia when Iolanthe received its premiere in November, playing the role until August 1883 when she left upon her engagement to marry one Lord Garmoyle. She would never again appear in comic opera.
In January 1884 Lord Garmoyle broke off the engagement, and Miss Fortescue (with W. S. Gilbert's solicitors and counsel) sued for breach of promise, eventually receiving £10,000 in damages. While the suit was in the courts she earned a great deal of publicity and also returned to the stage in her first major role, as Dorothy in Gilbert's Dan'l Druce, Blacksmith, at the Court Theatre in March 1884.
She took the money from her breach of promise settlement and founded her own theatre company, which toured for many years and frequently performed the works of W. S. Gilbert. One of her many successful tours, to America in 1886-87, featured the New York premiere of Gilbert's Gretchen with Miss Fortescue in the title role. Over the years she appeared in several more Gilbert works--as Galatea in Pygmalion & Galatea, Selene in The Wicked World, Clarice in Comedy & Tragedy, and Diana in The Fortune Hunter.
Miss Fortescue maintained her friendship with Gilbert for the rest of his life. On the afternoon of May 29, 1911, Gilbert visited her at her home where she was recuperating from a horseback-riding accident. The injury had affected her optic nerve and she was resting in near total darkness. Her mother, who was caring for her, said to Gilbert "I won't ask what you think of her appearance, for you can scarcely see her," to which Sir William replied, "Her appearance matters nothing. It is her disappearance we could not stand." Within a few hours, W. S. Gilbert would himself disappear, dead of heart failure at the bottom of the pond on his Grim's Dyke estate.
Miss Fortescue would continue to perform in non-musical works in London and the provinces for the better part of 40 years. Her last role in London was Mrs. Deveraux in A Man Unknown at the Court Theatre in June 1926.
For further details on her life story see "May Fortescue 'Substantial Damages'" by Tony Joseph (Bunthorne Books, Bristol, 2011).
---
F Index | "D'Oyly Carte Who Was Who" Home Page
---