THE D'OYLY CARTE OPERA COMPANY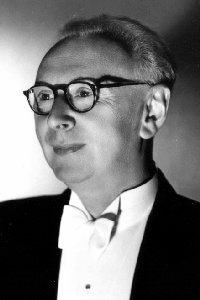 Isidore Godfrey
Isidore Godfrey a.m.d. 1925-29/m.d. 1929-68, cond. 1975)
[Born London 27 Sep 1900, died London 12 Sep 1977]
Isidore Godfrey received his musical training at the Guildhall School of Music where he won a gold medal for his proficiency as a pianist. He joined the D'Oyly Carte "New" Opera Company as accompanist and assistant musical director in April 1925. In May 1926 he transferred to the main (Repertory) Company in that capacity, and in May 1929 became the musical director of the D'Oyly Carte Opera Company (there was only one once the "New" Company disbanded in 1927) upon the retirement of Harry Norris in May 1929.
Godfrey served as musical director for more than 38 years, except for the October 1929-March 1930 London season when Malcolm Sargent took over, two breaks in July-August 1947 and June-July 1948 when Boyd Neel filled in as guest conductor, and the May-August 1951, December 1961-June 1962, and September 1963-July 1964 London seasons when Malcolm Sargent returned as guest conductor.
During his tenure he brought the Company to America eleven times:five times before World War II and six times after. Godfrey conducted recordings of all twelve operas in the D'Oyly Carte repertoire during his tenure: Trial by Jury (1949, 1964), The Sorcerer (1933 abridged, 1953, 1966), H.M.S. Pinafore (1949, 1960), The Pirates of Penzance (1949, 1957, 1968), Patience (1951, 1961, 1965 film), Iolanthe (1951, 1960), Princess Ida (1955), The Mikado (1950, 1957, 1966 film), Ruddigore (1950, 1962), The Yeomen of the Guard (1950), The Gondoliers (1950, 1961), Cox and Box (1961). He also recorded Utopia Limited excerpts to fill out the 1964 Trial LP.
Isidore Godfrey was awarded the O.B.E. in June 1965. He retired from the Company for medical reasons on February 24, 1968, following an emotion-filled "last-night" performance at the Saville Theatre, and was replaced as musical director by his assistant, James Walker. Upon his retirement as musical director, Godfrey was made President of Associate Members for the D'Oyly Carte Opera Trust, a post made vacant the previous year by the death of Sir Malcolm Sargent. Godfrey returned briefly as guest conductor for H.M.S. Pinafore during the two-week Centenary Season at the Savoy in 1975. "Goddie" remained active in the Gilbert & Sullivan Society, for which he served as Vice-President from 1955 until his death in 1977.
Isidore Godfrey married three times. The first to D'Oyly Carte performer Marguerite Kynaston ended in divorce. The second to D'Oyly Carte principal contralto Ann Drummond-Grant in 1940 ended with her death in 1959. He remarried outside the Company in 1961.
---
G Index | "Who Was Who" Homepage
---