THE D'OYLY CARTE OPERA COMPANY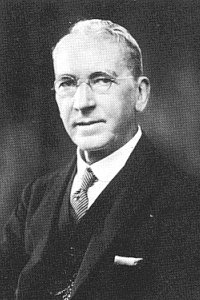 J. M. Gordon
J. M. Gordon (1883-90)
[Born Lumphanan, Aberdeenshire 12 Oct 1856, died Brighton 22 Feb 1944]
John McRobbie Gordon began his D'Oyly Carte career in 1883 on tour with Mr. D'Oyly Carte's "Patience" No. 2 Company as a member of the chorus. In March 1884 he took over the part of Colonel Calverley, playing the role until June when the Company was disbanded. Later that year he joined the men's chorus at the Savoy, where he remained until 1890 or thereabouts. During his time at the Savoy his name appeared in the program as Piscator in The Carp (a one-act curtain raiser that appeared with The Mikado and Ruddigore) on occasion in 1886 and regularly in 1887, and as Mr. Harrington Jarramie in Mrs. Jerramie's Genie (another companion piece) when it played with The Yeomen of the Guard (October 1888-November 1889). He is known to have been in the Savoy chorus in December 1889 for the premiere of The Gondoliers but we lose track of him as a performer after that.
In March 1907 he returned to the D'Oyly Carte organization as stage manager with the Repertory Opera Company. He served in that capacity at the Savoy toward the end of the First London Repertory Season, July-August 1907, then returned to the Repertory Company for the 1907-08 season. He appears to have left the D'Oyly Carte briefly in April 1908 when the Company returned to the Savoy for the Second Repertory Season, but in December 1911 he was back. Following the death of W. S. Gilbert earlier that year, Rupert D'Oyly Carte knew he needed a stage manager who could maintain the Company's high production standards and preserve its traditions. He found the ideal person in Gordon.
For the next 28 years, J. M. Gordon was the embodiment of the D'Oyly Carte stage tradition and perhaps the most influential member of the Company. Except when the Company traveled to North America, Gordon was on the job, coaching new artists, drilling the Company in their lines (he knew them all by heart), and assuring that nothing unauthorized crept in. When the D'Oyly Carte launched its second ("New") Company in 1919, Gordon did double duty, shuttling between the two Companies to assure that they both maintained the high standards he demanded. He was named Stage Director for the entire Company in 1922 and served in that capacity until his retirement in 1939. He was extremely faithful to Gilbert, and to the dramatist's intentions, but was also capable of change. He designed the revisions to Ruddigore when that opera was restaged in December 1921, and he sanctioned additional business if it was consistent with the dramatic situation:Darrell Fancourt's introduction of the Mikado's laugh being one example.
Gordon's determined approach to his work, bordering on fanaticism, was the subject of humorous anecdotes by many artists, but they all seem to have respected his knowledge, his dedication, and the value of his instruction. Several wrote of their experiences with him--the following from a book by Viola Wilson, who served briefly near the end of his career, is illustrative:
"He worshipped Gilbert and this was reflected in his own productions. Although a stickler for tradition, he believed first and foremost in building up an intelligent performance. Short and slight, James Gordon kept a small step ladder near the prompt corner so he could stand on it, peer through his pince-nez spectacles at us and not miss a single movement. He knew the exact spot where we should stand and no one dared be half an inch out of place. From the stage we could see his luminous pen jotting down notes which he later handed to us. Some of these I still have: 'You took three steps too close to Strephon during the duet.' 'Keep your arms steady during song and sing with more feeling' and so on. Both being Scots, we became friends although he did not believe a director should fraternise with the artists. I dared to ask him once how he kept his slim figure. 'A staple diet of fish and whisky will keep you slim all your life.' I often wish I had taken his advice!"
Gordon retired in July 1939. It is safe to say that no stage manager or director since has influenced the D'Oyly Carte organization nearly as much as J. M. Gordon. His own memoirs, written after his retirement, were transcribed by his great niece Elizabeth Benney and published by Pitcairn-Knowles in 2014.
---
G Index | "Who Was Who" Homepage
---