THE D'OYLY CARTE OPERA COMPANY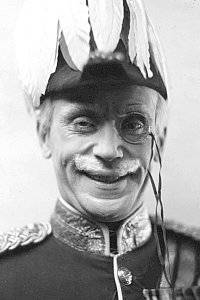 Martyn Green as Major-General Stanley in The Pirates of Penzance
Martyn Green (1922-39, 1946-51)
[Born London 22 Apr 1899, died Hollywood, California 8 Feb 1975]
William Martyn-Green entered the Royal College of Music in 1919 following his discharge from the Army. He had received shrapnel wounds in his left leg during World War I but recovered and, after leaving the Royal Academy, joined a touring company as Paul Petrov in Sybil where he decided that Martyn Green would be his stage name. Later, while appearing in a musical revue called Shuffle Along in Stoke Newington, he ran into an old college friend:Ethel Maclelland, who was at the time singing principal soprano roles with the D'Oyly Carte "New" Opera Company. Suddenly she said to him "I think you'd do quite well in G&S." Much taken with the idea, he headed almost immediately for London and the Savoy Hotel to arrange an audition with Rupert D'Oyly Carte.
Green was eventually engaged, joining the "New" Company chorus in Northampton in November 1922. He took his first named part, Luiz in The Gondoliers, later that month. It has been suggested that he may have gone on for Frank Steward as Jack Point in The Yeomen of the Guard once in February or March 1923, while Steward's understudy (J. Ivan Menzies) was on loan to the main Company, but that remains unproven. Green did say that Jack Point was his first patter role, and that he played it in Bolton.
In July 1923 he was made understudy to Frank Steward (Menzies had gone to the Repertory Company to understudy Henry Lytton). In so doing, he took Antonio, rather than Luiz, as his regular role in The Gondoliers, and added the Associate in Trial by Jury as his second regular part. He switched from the Associate to Counsel for the Plaintiff in Trial in November 1923. During that 1923-24 season he filled in for Steward on occasion as the Learned Judge in Trial by Jury, Sir Joseph Porter in H.M.S. Pinafore, the Lord Chancellor in Iolanthe, Ko-Ko in The Mikado, and the Duke of Plaza-Toro in The Gondoliers.
In July 1924, the "New" Company began the new season with a new repertoire. Green continued to understudy Steward, but now took Mr. Cox in Cox and Box and First Citizen in The Yeomen of the Guard as his regular roles. In January 1925 he added Pish-Tush in The Mikado, following the departure if Franklyn Tilton, but by the end of the season was sharing that role with John Huntington.
Steward left in June 1925, and was replaced as the "New" Company patter man by Menzies. Green transferred to the Repertory Company as Lytton's understudy, taking Cox, the Associate, Major Murgatroyd in Patience, and Luiz as his regular parts, until August 1926, when he once more swapped Luiz for Antonio. In June 1927 he turned over Antonio to Richard Walker who had transferred in from the disbanded "New" Company. It was also about this time that Green ceased playing the Associate, taking the more demanding Usher's part during the 1927-28 season, though he would share the role with Joseph Griffin. In the period between 1925 and 1928 Green also filled in for Lytton on occasion as General Stanley and for others as Florian in Princess Ida and Giuseppe in The Gondoliers.
In 1928-29 he took the Counsel and Major Murgatroyd as his only regular named parts but filled in on occasion for Lytton in all his roles that season:General Stanley in The Pirates of Penzance, Reginald Bunthorne in Patience, the Lord Chancellor, Ko-Ko, Robin Oakapple in Ruddigore, and the Duke in Gondoliers. In 1929-30 he gave up the Counsel, but reclaimed Mr. Cox in an expanded repertoire, continuing to fill in on occasion for Lytton, this season as General Stanley, Ko-Ko, Robin, Jack Point, and the Duke. He also sang the part of Cox in a 1929 BBC radio broadcast.
The 1930-31 season began as the previous one had ended, but on May 3, 1931, Henry Lytton's car overturned while maneuvering on a rain-slicked road while approaching Cambridge. Lytton was seriously injured and was out for the better part of two months, Green taking all his parts. Lytton's passenger, the great contralto Bertha Lewis, was not so fortunate:she died of her injuries five days later.
Green continued to appear as Cox and the Major (a part he recorded in 1930), but was now designated as Lytton's "deputy" as opposed to "understudy," and in August 1931 was assigned two of the patter roles, General Stanley and Robin Oakapple, as his own. He was also filling in more frequently as Jack Point, though Lytton liked the role and would reclaim it from time to time.
Green ascended to the remaining leading patter roles after Lytton's farewell performance in Dublin on June 30, 1934. Green continued to play Cox for one season, but gave it up in June 1935. His roles were now Sir Joseph, General Stanley, Bunthorne, the Lord Chancellor, King Gama in Princess Ida, Ko-Ko (which he recorded in 1936), Robin, Jack Point, and the Duke of Plaza-Toro. In June 1938, and again in June 1939, he finally played John Wellington Wells when The Sorcerer received brief London revivals. He also appeared as Ko-Ko in the 1939 film version of The Mikado.
When World War II intervened in September 1939 Carte shut the Company down. Green didn't wait for the restart, moving on to a starring role in a Noel Gay revue, Lights Up, and, six months later, touring variety halls for a time with Sylvia Cecil in a two-person act, called "Words with Music," which, of course, featured songs from Gilbert & Sullivan. By this time Green was making application for military commissions for himself. He was eventually granted a commission in the RAF Voluntary Reserve in April 1941 and served at home and abroad (as an instructor and administrator) until September 1945.
With the war over, Rupert D'Oyly Carte eventually invited him back and Green returned to the D'Oyly Carte once more as principal comedian in September 1946. He played all the traditional roles for five seasons, recording most of them (Sir Joseph and General Stanley, 1949; Ko-Ko, Robin, Point, and the Duke, 1950, and Lord Chancellor and Bunthorne, 1951). After retiring from the Company in August 1951, Green was engaged to appear as George Grossmith in the film The Story of Gilbert and Sullivan (filmed in the summer of 1952, but released in 1953). He then left for America, along with Ella Halman and Radley Flynn, to perform Gilbert & Sullivan for S. M. Chartrock. He remained in America where he continued his career in musicals, legitimate plays, television, and films.
In 1959 Green suffered a terrible accident when his left leg was crushed in a garage elevator, and had to be amputated below the knee. Eight months later, equipped with a prosthetic limb, he was performing as W. S. Gilbert in the musical Knights of Song in St. Louis. In 1960 he also directed Groucho Marx (not to mention Helen Traubel, Stanley Holloway and Robert Rounseville) in a remarkable Bell Telephone Hour television condensed production of The Mikado. He continued to appear on Broadway, and worked with touring companies and in summer stock for the rest of his life. His film roles included Finchley in A Lovely Way to Die in 1968, and the Captain in The Iceman Cometh in 1973, the year he moved to Hollywood.
His last stage appearance was in Chicago in December 1974 in a play called The Sea. He returned to his Hollywood home and was shortly hospitalized. He died of a blood infection on February 8, 1975.
In addition to his D'Oyly Carte sets, Green may be heard on four additional Gilbert & Sullivan recordings:"Martyn Green's Gilbert & Sullivan" (Columbia, 1953), The Mikado (Allegro-Royale, 1954), "Martyn Green Sings the Gilbert & Sullivan Song Book"(MGM, 1962), and The Pirates of Penzance (RCA-Victor, 1966). He also did work for radio and television in America including an adaptation of the Major-General's Song in Pirates for Campbell's Soup.
Martyn Green wrote two books:an autobiography, "Here's a How-de-do" in 1952, and an annotated songbook, "Martyn Green's Treasury of Gilbert & Sullivan" (New York, Simon & Schuster) in 1961. There are two editions of "Here's a How-de-do." The American edition (New York, W. W. Norton & Co., 275 pp.) is somewhat more candid and expansive in dealing with D'Oyly Carte personalities and situations than its British counterpart (London, Max Reinhardt, 210 pp.).
---
G Index | "Who Was Who" Homepage
---