THE D'OYLY CARTE OPERA COMPANY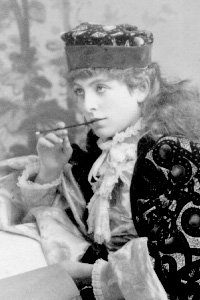 Sybil Grey as Sacharissa in Princess Ida
Sybil Grey (1880-87, 1888)
Sybil Grey was a chorister and understudy during the original London production of The Pirates of Penzance at the Opera Comique in 1880, going on in the role of Kate for a short time in July. During the run of Patience at the Opera Comique her duties appear to be limited to the chorus, though she may well have understudied the part of Lady Saphir. Shortly after Patience was transferred to the Savoy (November 1881) she was given the non-singing role of Jane in the Desprez & Faning curtain raisier Mock Turtles.
When Iolanthe opened on November 25, 1882, she was given the small part of Fleta. She continued to play Jane in Mock Turtles until March 1883, when a new companion piece, A Private Wire, was inserted, with Miss Grey in the part of Mary, the maid. In October 1883, Miss Grey moved up (slightly) to Leila in Iolanthe, playing both Leila and Mary until both operas closed in January 1884.
She then created the part of Sacharissa in the first performance of Princess Ida, playing the role throughout the run, and when The Sorcerer and Trial by Jury were revived in October 1884, she was the First Bridesmaid in the shorter piece. For the initial production of The Mikado, she created the part of Peep-Bo, the third "little maid from school," playing it throughout a run of 672 performances, ending January 19, 1887.
She then left the D'Oyly Carte for more than a year. During this gap, her only known role on the London Stage was as Vanilla in Frankenstein, a burlesque melodrama at the Gaiety (December 1887-April 1888).
On June 5, 1888, when D'Oyly Carte revived The Mikado for the first time at the Savoy, Sybil Grey was prevailed upon to return, joining Leonora Braham and Jessie Bond in a reunion of the original "three little maids from school." She remained until the revival ended in September 1888, but left the D'Oyly Carte organization at that point for the last time.
Between 1888 (in Babes in the Wood, a pantomime at Drury Lane) and 1906 (as Miao-See in See See, a comic opera at the Prince of Wales's), she would appear in a series of London musical productions.
On March 12, 1930, Misses Braham, Bond, and Grey were reunited once more at a Gilbert & Sullivan Society social celebrating the 45th anniversary of The Mikado.
---
G Index | "Who Was Who" Homepage
---