THE D'OYLY CARTE OPERA COMPANY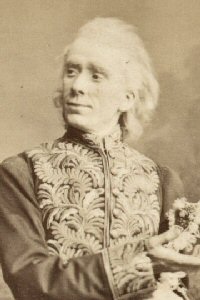 George Grossmith as Sir Joseph Porter in H.M.S. Pinafore
George Grossmith (1877-89, 1897)
[Born London 9 Dec 1847, died Folkestone, Kent 1 Mar 1912]
The son of a well known popular lecturer of the same name, George Grossmith was for many years a reporter in law courts, and headed for what he hoped would be a career in the legal profession. His true career as an entertainer got started through local amateur "penny readings," which brought him to the attention of Professor John Henry Pepper, head of the Royal Polytechnic Institution. Pepper convinced him to abandon the law and develop his musical abilities at the Polytechnic.
Grossmith made his professional debut in 1870 with a forty-minute sketch called Human Oddities. It was a joint creation with his father, who provided the words, and was so successful that he took it on tour for six months. He toured with Mr. and Mrs. Howard Paul in 1871 before returning to the Polytechnic where he wrote and performed a sketch called The Silver Wedding (including what would be one of his most popular songs, "I am so Volatile" with word by his father). As a disciple of John Parry, Grossmith would learn to develop his own popular entertainments (combinations of sketches and comic songs centered on the piano).
In 1876 he collaborated with Florence Marryat on a program called Entre Nous. It was a series of piano sketches, alternating with scenes and costumed recitations, and topped off with a two-person 25-minute "satirical musical sketch" called Cups and Saucers. Entre Nous toured until spring or summer of 1877. Grossmith then took a number of smaller engagements, including recitals at private homes. It has been suggested that at one such recital he attracted the attention of Arthur Sullivan. In any event, Sullivan wrote to Grossmith in October 1877 asking if he were inclined to go on the stage: "There is a part in the new piece I am doing with Gilbert which I think you would play admirably."
The part was, of course, John Wellington Wells in The Sorcerer, which opened at the Opera Comique November 17, 1877, and ran until May 24, 1878, and Grossmith proved Sullivan right. On March 23, 1878, Trial by Jury was added to the program, replacing The Spectre Knight as the one-act companion piece, and Grossmith took the part of the Learned Judge.
Next came H.M.S. Pinafore (May 1878-February 1880) with G.G., as Grossmith was known, playing Sir Joseph Porter. From August 1878 until the end of the run, Pinafore was accompanied by Grossmith's own Cups and Saucers, though he did not appear in his own work. (Cups and Saucers was also performed on tour by Mr. D'Oyly Carte's No. 1 "Iolanthe" Company in 1883 and 1884.) Grossmith did appear in a single Opera Comique benefit matinee performance of Burnand & Sullivan's Cox and Box on October 29, 1879, as Sergeant Bouncer. It was the only time Cox and Box was performed by the D'Oyly Carte Opera Company during Grossmith's tenure.
After a break during which Carte staged a children's production of Pinafore, Grossmith was Major-General Stanley in the first London production of The Pirates of Penzance (April 1880-April 1881). He next created the part of Reginald Bunthorne, a fleshly poet, in Patience (Opera Comique, April-October 1881; Savoy, October 1881-November 1882). Grossmith wrote the music for Arthur Law's Uncle Samuel, the one-act curtain raiser that preceded Patience on the Opera Comique program.
Following Patience at the Savoy were Iolanthe (November 1882-January 1884) in which Grossmith created the role of the Lord Chancellor, Princess Ida (January-October 1884) in which he was the original King Gama, and a revival of Trial by Jury and The Sorcerer (October 1884-March 1885), in which he revisited J. W. Wells, but not the Judge. He next created Ko-Ko in The Mikado (March 1885-January 1887) and Robin Oakapple in Ruddigore (January-November 1887). When Ruddigore ran out of steam, Carte produced revivals of H.M.S. Pinafore (November 1887-March 1888), The Pirates of Penzance (March-June 1888), and The Mikado (June-September 1888) with Grossmith repeating his original roles in all three.
Grossmith next created the part of Jack Point, the brokenhearted jester in The Yeomen of the Guard. He played Point from the opera's opening on October 3, 1888, until August 17, 1889, when he bid the Company (and the audience) adieu, leaving the role to John Wilkinson. G.G. will always be remembered for creating the comic baritone parts from J. W. Wells to Jack Point, commonly known as the "Grossmith" roles. Even the Duke of Plaza-Toro in The Gondoliers, a part Grossmith never played, is referred to in those terms.
Grossmith wrote, composed, and performed in several one-man drawing room sketches or monologues that were given intermittently at the Opera Comique or Savoy in place of the companion pieces when matinee audiences received shorter programs. These sketches included Beauties on the Beach (Opera Comique, 1878), Five Hamlets (Opera Comique, 1878), A Silver Wedding (Opera Comique, 1879), The Drama on Crutches (Savoy, 1883), Homburg, or Haunted by The Mikado (Savoy, 1887-88), and Holiday Hall (Savoy, 1888).
Upon leaving the Savoy, G.G. abandoned the comforts of London for a life on the road. His piano and he would now entertain audiences throughout Great Britain and Ireland. His drawing-room sketches, peppered with his own popular songs, such as "See me Dance the Polka," but also including local or topical material, were warmly received by audiences wherever he went. So much so that when he returned to Scotland on his second tour in the fall of 1890, he would give a command performance for Queen Victoria at Balmoral Castle.
Grossmith was a man of many talents and when asked by W. S. Gilbert in 1891 to compose the music for Gilbert's next dramatic work, he could hardly say no. He had never composed a work on this scale before, and the three-act operetta, Haste to the Wedding, closed after just 22 performances at the Criterion (July-August 1892). In October 1892 he embarked on his first of three recital tours of North America, soon incorporating a fresh sketch, How I Discovered America, that would be a huge hit and had to be given everywhere. He would return to his piano entertainments, again and again, for the rest of his professional life.
Also in 1892 he collaborated with his brother Weedon Grossmith to expand a series of amusing columns they had written in 1888-89 for Punch. "The Diary of a Nobody" (Bristol, J. W. Arrowsmith, 1892) was published as a novel, and has never been out of print since. It will always be considered a classic in Victorian popular literature, and has itself been the object of dramatization and adaptation.
In 1893 Gilbert offered Grossmith a part in the new Savoy opera, Utopia Limited, but Grossmith turned it down. In 1894 Gilbert tried again--this time with a part (George Griffenfeld) in "His Excellency", written for the Lyric with music by Osmond Carr. This time G.G. accepted. It ran from October 1894 to April 1895.
In February 1897, Grossmith made his long awaited return to the D'Oyly Carte Opera Company and the Savoy. It was a disaster. As King Ferdinand V of Vingolia in His Majesty, Grossmith felt that his part had been rewritten during rehearsals to the point that it no longer suited his abilities. He gave a lackluster performance on opening night and, after just three performances, withdrew from the cast. Sad it is that his only return to the Savoy should have been in such as work, and been such a dismal failure.
Grossmith made two more undistinguished appearances on the London Stage, in November 1898 in a farcical comedy at the Royalty called Young Mr. Yarde, and in November-December 1900 in The Gay Pretenders, a comic opera at the Globe.
George Grossmith wrote two volumes of reminiscences--"A Society Clown" (Bristol, Arrowsmith, 1888), which details his early career (including a chapter on Gilbert & Sullivan), and "Piano & I" (Bristol, Arrowsmith, 1910) which focuses more on his triumphs as a piano entertainer. But anyone wishing to learn more about this remarkable Victorian performer, author, and composer is advised to begin with "George Grossmith" by Tony Joseph, a biography published by the author in 1982.
---
G Index | "Who Was Who" Homepage
---