THE D'OYLY CARTE OPERA COMPANY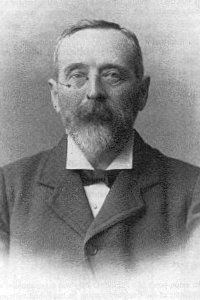 P. W. Halton
P. W. Halton (m.d., 1879-1904)
[Born Mullingar, Ireland, 22 Apr 1841, died Manchester 7 Jun 1909]
Patrick William Halton was for nearly 25 years one of D'Oyly Carte's leading provincial musical directors. Upon coming to London in the early to mid-1870s, he earned his living working in a music store, playing the organ in a local church, and giving music lessons. In 1876, he was hired as "musical conductor" by the Theatre Royal, Manchester.
Halton's D'Oyly Carte career began in December 1879 in Hastings as Musical Director for Mr. D'Oyly Carte's "Second London" Company, presenting H.M.S. Pinafore. In March 1880 he began a new tour with Carte's "D" Company, presenting Pinafore and The Sorcerer, along with shorter companion pieces, until December 1880 when they took on The Pirates of Penzance as their sole full-length work. Among the companion pieces included on this tour was Halton's own composition Six and Six, a one-act operetta with words by B. T. Hughes. He then launched the first provincial production of Patience with a reformed "D" Company on August 1, 1880, before turning the Company over to George Arnold later that month.
Halton next made his first American visit, directing D'Oyly Carte's first American Patience Company at the Standard Theatre, New York, from September 1881 to March 1882. During the last month he also conducted Stephen & Solomon's Claude Duval which alternated with Patience on the Standard program.
He then returned home and was soon directing Patience on tour with Mr. D'Oyly Carte's No. 1 "Patience" Company. This he did, except for a gap in May-June 1882, until December 1883. On February 4, 1884, Halton was musical director for the First Provincial production of Princess Ida in Glasgow with Mr. D'Oyly Carte's "D" ("Princess Ida" No. 1) Company. In February 1885, "D" Company added the Trial by Jury/Sorcerer double-bill to the repertoire, along with Princess Ida.
Halton was next assigned to be musical director for the First American Mikado Company, at New York's Fifth Avenue Theatre from August 1885 to April 1886. He returned again to England, gave two weeks of Pinafore and Mikado with Carte's "Continental Company," virtually identical to the one that played Mikado in New York, and then took them on a seven-month tour of Germany and Austria, ending in January 1887. He then returned to New York and the Fifth Avenue Theatre, with most of the same principals, with Carte's First American Ruddygore Company. It ran from February until April 1887.
He next took Carte's "D" Company on a tour of Germany, Austria, and Holland (April -September 1887) with Patience and The Mikado. He then returned to the British Isles to present the same operas to British audiences until December when the Company was disbanded.
In February 1888, he joined Carte's "C" (Repertory) Company, touring Pinafore, Patience, and The Mikado until June 16. After a six-week break, the Company reassembled on July 30, touring Pirates and Mikado until October, adding Patience to the mix for a month, and then abandoning their Repertory name altogether, to present, on November 1, 1888, the First Provincial production of The Yeomen of the Guard. Yeomen ran until December 1889, then "C" Company shut down for a few months and Halton headed back to New York.
On January 13, 1890, Halton conducted the First American production of The Gondoliers, at the Park Theatre in New York. A weak cast spelled disaster, and Carte himself witnessed the performance (and empty seats) on January 28. He immediately cabled London for replacements. A new production was launched on February 18, 1890, at Palmer's Theatre, and was much better received. Halton continued as musical director for a fortnight, then turned the baton over to Jesse Williams and headed back to England.
He would arrive in time for the relaunch of Company "C" on March 24, 1890. They would perform Gondoliers exclusively until December, but, from that point forward, they would slowly reestablish themselves as a Repertory Company. They would add the evergreen Mikado in December 1890 and Yeomen of the Guard in January 1891. On September 4, 1891, they would perform The Mikado for Queen Victoria at Balmoral Castle:an assignment the patriotic Irishman accepted grudgingly. In October 1891, Iolanthe was added, bringing to four the size of the repertoire, and from January to July 1892 they would also include The Nautch Girl. In August 1892 Patience was restored, and in May 1893 came The Pirates of Penzance, followed in February 1894 by H.M.S. Pinafore and Trial by Jury, making a repertoire of eight Gilbert & Sullivan operas.
The Company "C" repertoire continued to expand, embracing The Sorcerer in April 1895, the curtain raiser Cox and Box in May, and Princess Ida in December. The repertoire was now eleven, and would remain so through 1896. In late November 1896, Halton turned Company "C" over to Lovell Phillips, and headed for South Africa.
Carte's first South African tour was ambitious. It embraced all the Gilbert & Sullivan operas Halton had conducted with Company "C," except Princess Ida, and also included the two newest:Utopia Limited and The Grand Duke. The tour lasted until June 1897.
The South Africa Company was redesignated as Company "B" when they returned to Southport in July, but in August there were wholesale changes and Halton, as well as many prominent cast members, switched to Company "C." They would tour the British Isles until December 11, 1897, performing a varying repertoire of G & S with His Majesty thrown in briefly in August and September. Halton would lead "B" Company for the two weeks Company "C" was off, but would return to the "C" team on December 27, 1897.
P. W. Halton would remain with Company "C" for the rest of his D'Oyly Carte career. Over the next six-and-a-half years with Halton as their musical director, they played a wide range of Gilbert & Sullivan (all the G & S operas except Ruddigore and The Grand Duke were included at one time or another), and briefly (January-September 1900) included The Rose of Persia. He retired from what was by then known as the D'Oyly Carte Principal Repertory Opera Company on June 18, 1904.
P. W. Halton was the father of Frederick J. Halton, the author of "The Gilbert & Sullivan Operas: A Concordance" (New York, Bass, 1935). Those interested in a more detailed account of P. W. Halton's life and an assessment of his place among D'Oyly Carte's touring conductors are referred to Brian Jones's article "Patrick W. Halton: 'A Very Capable Conductor'" in the W. S. Gilbert Society Journal, vol. 1, no. 7, 1993.
---
H Index | "Who Was Who" Homepage
---