THE D'OYLY CARTE OPERA COMPANY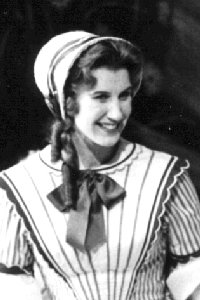 Jean Hindmarsh as Mabel in The Pirates of Penzance
Jean Hindmarsh (1956-60, 1961-62, 1962-63, 1963, 1963-64, 1969)
[Born Leeds]
Jean Hindmarsh studied music and opera at the Royal College of Music in Manchester, and performed concert and oratorio work. She participated in the first Kathleen Ferrier competition, winning the Blackpool heat, and was invited to audition with the D'Oyly Carte Opera Company. She joined the D'Oyly Carte as principal soprano in March 1956 and began appearing as Mabel in The Pirates of Penzance, Princess Ida in Princess Ida, Elsie Maynard in The Yeomen of the Guard, and Gianetta in The Gondoliers, replacing Muriel Harding. She would add Josephine in H.M.S. Pinafore in May 1956, and the small part of Lady Ella when a new production of Patience was presented in January 1957. In October 1959 she moved up to the title role in Patience, replacing the departing Jean Barrington.
Miss Hindmarsh left the Company in May 1960, but would return for several guest engagements:from November 1961 to April 1962 (as Mabel, Princess Ida, and Gianetta), in June 1962 (as Gianetta), from August 1962 to January 1963 (as Mabel, Gianetta, and [from October] Josephine), in April and May 1963 (as Princess Ida), from December 1963 to May 1964 (as Mabel and Princess Ida), and in April and May 1969 (as Princess Ida).
She may be heard on four D'Oyly Carte recordings:as Yum-Yum in The Mikado (1957), Mabel in Pirates (1957), Josephine in Pinafore (1960), and Rose Maybud in Ruddigore (1962), although she never played Yum-Yum or Rose on stage.
---
H Index | "Who Was Who" Homepage
---