THE D'OYLY CARTE OPERA COMPANY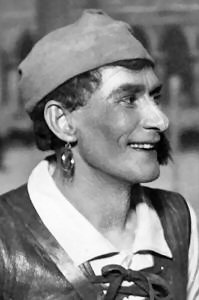 Frederick Hobbs as Giuseppe in The Gondoliers
Frederick Hobbs (1914-20)
[Born Christchurch, New Zealand 29 Jul 1874, died Norwich 11 Apr 1942]
Baritone Frederick Hobbs was trained as a vocalist and appeared at concerts throughout Australia and New Zealand. He made his first appearance in England with the Carl Rosa Opera Company in Islington, and subsequently toured in musical comedies in Great Britain and South Africa.
He joined D'Oyly Carte Repertory Opera Company in March 1914, when Sydney Granville left the Company, and immediately began to appear as Colonel Calverley in Patience, the Earl of Mountararat in Iolanthe, Arac in Princess Ida, Pish-Tush in The Mikado, the Lieutenant of the Tower in The Yeomen of the Guard, and Luiz in The Gondoliers. At the start of the new season in July 1914 he added the Counsel to the Plaintiff in Trial by Jury, Bill Bobstay in H.M.S. Pinafore, and Samuel in The Pirates of Penzance, giving him a part in each opera in the repertoire. In July 1916 he gave up Luiz, but added Sir Marmaduke Pointdextre in the newly revived Sorcerer.
In December 1916 there were wholesale changes among the Company's baritones. Hobbs' new roles would be Sir Marmaduke in The Sorcerer, Dick Deadeye in H.M.S. Pinafore, the Pirate King in The Pirates of Penzance, Colonel Calverley, Mountararat, Arac, Pish-Tush, Sergeant Meryll in The Yeomen of the Guard, and Giuseppe in The Gondoliers. In December 1918, following the departure of Frank Wilson, he swapped Pish-Tush for the title role in The Mikado. During the 1919-20 season he shared the Colonel in Patience with Sydney Granville. After the Company engaged Darrell Fancourt in May 1920, Hobbs left for Australia when the season ended in June.
In Australia, Frederick Hobbs appeared in at least seven Gilbert & Sullivan operas under the management of J. C. Williamson in Melbourne and Sydney between August 1920 and February 1921. Upon his return to England he sang Deadeye's part in "Carefully on tiptoe stealing" on the 1922 D'Oyly Carte/HMV recording of H.M.S. Pinafore. It is his only known recording.
He would return to the D'Oyly Carte in 1923 as stage manager, serving in that capacity until 1927 when he moved front-of-the-house as business manager. Although he had been in ill health, he was traveling with the Company in 1942 when he suffered a relapse in Norwich. He died in a nursing home there.
Frederick Hobbs was married to D'Oyly Carte soprano Doris Cameron.
---
H Index | "Who Was Who" Homepage
---