THE D'OYLY CARTE OPERA COMPANY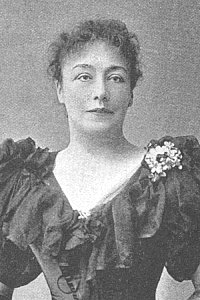 Fanny Holland
Fanny Holland (1879-80)
[Born London 14 Sep 1847, died Bournemouth 18 Jun 1931]
Fanny Holland trained at the Royal Academy of Music, London, and was for several years a popular concert singer in London and the provinces. It was Frederic Clay who first recognized her talents as a singer who could act, and engaged her for a part in an operetta he had written. It was performed in Canterbury, and included a song for Miss Holland which would become immensely popular in its own right:"She Wandered Down the Mountain Side."
Shortly thereafter, she joined the German Reed Entertainments at the Gallery of Illustration where she made her London debut on November 22, 1869, as Rose in Gilbert & Clay's Ages Ago. She would go on to appear in scores of German Reed productions, at the Gallery of Illustration and later at St. George's Hall. They included all of Gilbert's German Reed pieces:Our Island Home (Gallery of Illustration, 1870, music by Thomas German Reed), A Sensation Novel (Gallery of Illustration, 1871, music by Reed), Happy Arcadia (Gallery of Illustration, 1872, music by Clay), and Eyes and No Eyes (St. George's Hall, 1875, music by Reed). She also appeared in Gilbert's Topsy-Turvydom at the Criterion in 1874.
Miss Holland returned to the German Reeds in 1875, and would remain with them at St. George's Hall until 1895, with the exception of a two-year period when she and her husband (dramatist Arthur Law) performed what was styled as "Mr. & Mrs. Arthur Law's Entertainment" on tour with less than hoped-for success, and her only engagement with the D'Oyly Carte Opera Company:at the Opera Comique, as Josephine in H.M.S. Pinafore (December 1879-February 1880), at the close of the run.
The German Reed partnership dissolved in 1895 following the deaths of Corney Grain and Alfred German Reed. One of Fanny Holland's last appearances at St. George's Hall was in a revival of Gilbert & Clay's Happy Arcadia (July-August 1895), under the management of Rutland Barrington. She later appeared in Henry Arthur Jones's comedy The Manoeuvers of Jane at the Haymarket (1898-99).
---
H Index | "Who Was Who" Homepage
---