THE D'OYLY CARTE OPERA COMPANY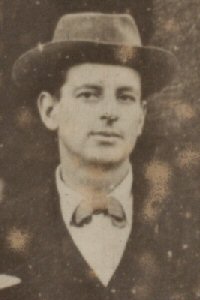 Frank Holt
Frank Holt (1887-98, 1902-03)
Frank Holt toured with several D'Oyly Carte companies from 1887 to 1898, as understudy and sometime principal exponent of the comic baritone roles. His first named part was Ko-Ko in The Mikado, a role he filled briefly in February 1887 with Mr. D'Oyly Carte's "D" Company, following the departure of John Wilkinson. Later that year he toured Germany and Austria, where he understudied David Fisher and took the small part of Major Murgatroyd in Patience. He returned to England in February 1888 with Carte's Opera Company "C" in the same capacity, getting the opportunity in June of that year to deputize for George Thorne as Sir Joseph Porter in H.M.S. Pinafore, Reginald Bunthorne in Patience, and Ko-Ko in The Mikado. Between July 1888 and November 1889, Holt's roles with Company "C" were Amandus in The Carp (companion piece to The Pirates of Penzance, July-December 1888). Major Murgatroyd (October 1888), and First Citizen in the first provincial production of The Yeomen of the Guard (November 1888-November 1889).
In November 1889, Thorne left Company "C" due to illness and Holt stepped in as principal comedian, appearing as Jack Point in Yeomen. Holt transferred to D'Oyly Carte Opera Company "E" in February 1890, replacing Henry A. Lytton as Ko-Ko and Jack Point, then played the Duke of Plaza-Toro from February 19 onward in the first provincial production of The Gondoliers. He took up Ko-Ko again when The Mikado joined Gondoliers on the tour in November. He left Company "E" (or at least his principal roles) in January 1891, succeeded by Lytton who had returned.
Holt was with D'Oyly Carte Opera Company "C" in May-June 1891, filling in for Thorne as Ko-Ko, Point, and the Duke. He remained with that Company as understudy, for when Patience was added to the repertoire in August 1892, Holt was once again the Major. From that point forward he appeared regularly as the Major, Counsel to the Plaintiff in Trial by Jury (beginning in January 1894), and Mr. Cox in Cox and Box (beginning in May 1895); and took occasional turns as Samuel in The Pirates of Penzance and Florian in Princess Ida (both starting in January 1896). Over the years with Company "C" he also filled in on a number of occasions as principal comedian:April-May and September 1893; January, April, and October 1894; March, April, October, and December 1895; and April-May 1896. The company's extensive repertoire during those years gave him the opportunity to play John Wellington Wells in The Sorcerer, Sir Joseph in Pinafore, Major General Stanley in Pirates, Bunthorne in Patience, the Lord Chancellor in Iolanthe, King Gama in Princess Ida, Jack Point in Yeomen, and the Duke in Gondoliers.
Holt then traveled with a D'Oyly Carte Company to South Africa in December 1896. He was once more understudy to George Thorne, taking the small role of Tarara in Utopia Limited and in all likelihood the Counsel, the Major, and perhaps First Citizen as well. In April 1897 Holt's roles also included Leonard Meryll in The Yeomen of the Guard and Luiz in The Gondoliers. Subsequently, however, Thorne had fallen ill and left the Company. Holt was once more Wells, Sir Joseph, the Major General, Bunthorne, the Lord Chancellor, Ko-Ko, Point, the Duke, and, for the first time, Phantis in Utopia and Rudolph in The Grand Duke. It's likely he continued to play the Counsel in Trial as well. After all, he played the Counsel, as well as Wells, the Major General, Ko-Ko, and the Duke when the Company returned (as Company "B") to Southport, England, for the week of July 26, 1897.
From August to December 1897 Holt toured with D'Oyly Carte Opera Company "C" once more as principal comedian, but this time sharing the roles with M. R. Morand. Holt took Wells and Phantis; Morand took the others, though Holt went on occasion as Point and the Duke. Holt also played the Major in Patience. A week before the tour ended, he returned to Company "B" for a few weeks, playing the Lord Chancellor, Ko-Ko, and Jack Point, before returning to Company "C" to replace Morand as principal comedian. At this point, his roles were Wells, Sir Joseph, General Stanley, Bunthorne, the Lord Chancellor, Gama, Ko-Ko, Point, and the Duke.
In March 1898 Holt returned to Company "B" as sole comic baritone, replacing the departing C. Herbert Workman. From March to June 1898, when the Company was disbanded, Holt played Wells, General Stanley, the Lord Chancellor, Ko-Ko, and Jack Point.
After that Holt found work in London in two Leslie Stuart musicals, as Leandro in the long-running musical comedy Floradora (Lyric, September 1899-March 1901), and as Crushall in the "modern extravaganza" The Silver Slipper (June-December 1901).
He was lured back to the D'Oyly Carte for one more engagement:the April 1902-May 1903 tour of South Africa. As principal comedian once more, he played his familiar roles in The Sorcerer, Pinafore, Pirates, Patience, Iolanthe, Mikado, Yeomen, and Gondoliers. The Company also presented Utopia Limited and The Rose of Persia, with Holt as King Paramount and Hassan respectively.
Frank Holt was married to D'Oyly Carte chorister and understudy Lily Webb.
---
H Index | "Who Was Who" Homepage
---