THE D'OYLY CARTE OPERA COMPANY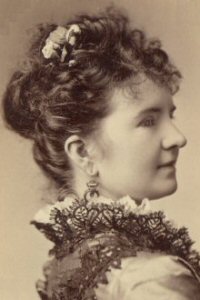 Emma Howson
Emma Howson (1878-79)
[Born Hobart Town, Tasmania 28 Mar 1844, died New York Jun 1928]
Emma Howson came from a musical family and performed as a child in her native Australia in concerts with her father and brothers. At the urging of American actor Joseph Jefferson, the Howsons came to America where Emma made her debut in English opera as Amina in La Sonnambulla (Maguire's Academy of Music, San Francisco, June 1866). She played several successful engagements in California, then eventually worked her way east, making her New York debut in Maritana (Grand Opera House, November 1869). Over the next several years she visited most of the principal North American cities, playing prima donna roles in Maritana, Fra Diavolo, The Bohemian Girl, Martha, Oberon, The Marriage of Figaro, Der Freyschutz, and Il Trovatore.
In 1873 she left for Europe, and studied the Italian repertoire and language in Milan. She made her debut in Italian opera in Malta in 1875 as Amina in La Sonnambulla again. In 1876 she accepted an engagement to tour Italian opera in the English provinces.
She would make her debut on the London Stage for D'Oyly Carte at the Opera Comique in May 1878, creating the role of Josephine in H.M.S. Pinafore. She was a critical and popular success, The Era effusing "Miss Emma Howsonis one of the brightest, liveliest little ladies imaginable. She has a voice of charming quality, pure, sweet, and admirably in tune. Her singing at once established her in the good graces of the audience, and her acting was full of intelligence and comic talent."
She left the Opera Comique and the D'Oyly Carte in April 1879 to rest her voice. When she returned to the stage it was as leading lady in The Beggar's Opera. In the early 1880s she returned to America where she toured for about a dozen years of light opera and concert work, often with her father as conductor. Her roles in America included Josephine in Pinafore and Patience in Patience. She retired from the stage in the early 1890s.
Her brother John Howson performed Gilbert & Sullivan frequently in America. He had one engagement with D'Oyly Carte in Boston in 1885.
---
H Index | "Who Was Who" Homepage
---