THE D'OYLY CARTE OPERA COMPANY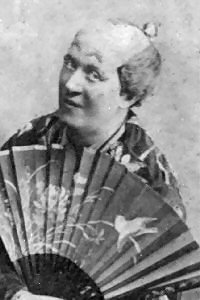 Albert James as Ko-Ko in The Mikado
Albert James (1880-87, 1893-95, 1901-03)
[Born London c.1852, died Wandsworth, London 24 Dec 1913]
Albert James's stage experience dates to 1868, when he started as a call boy at the Globe Theatre, London.In 1872 he appeared there in a revival of H. J. Byron's comedy Cyril's Success, and subsequently appeared at the Holborn Theatre and with "Professor Pepper's Spectral Opera Company."
He joined Mr. D'Oyly Carte's Opera Company "B" in October 1880, appearing in the chorus of The Pirates of Penzance and playing the small part of Joseph, the page, in the curtain raiser In the Sulks. The Company was redesignated as Company "C" in March 1881, and in December 1881, James filled in for David Fisher Jnr. as Major General Stanley in Pirates.
James's next appearance in a D'Oyly Carte program was from April to December 1882 on tour as Major Murgatroyd with Mr. D'Oyly Carte's No. 1 "Patience" Company.In February 1883 he joined Carte'sNo. 2 "Patience" Company as Reginald Bunthorne and as stage manager.When that Company was disbanded at the end of June 1884, James transferred to Carte's "E" Company, where he toured in Patience and Iolanthe as Bunthorne and the Lord Chancellor until May 1885, while continuing to serve as stage manager.At that point "E" Company gave the First Provincial production of The Mikado, with James as Ko-Ko."E" Company toured with James starring in and stage managing The Mikado exclusively until December 1887, at which point he left the D'Oyly Carte to pursue stage managing on his own.
The experiment was not a success, and he returned to the stage with the Carl Rosa Light Opera Company at the Prince of Wales's Theatre, where he created the parts of Petit Pierre in Paul Jones in (January 1889-January 1890), and Witgills in Marjorie (January-August 1890).James then toured America with the Agnes Huntingdon Company in 1890-91, appearing there in Paul Jones and in Planquette's Captain Therese.
In January 1893 he was back in London, appearing and stage managing at the Shaftesbury for a bit over a month.He directed a single matinee performance of Captain Therese at the Criterion in May, but in December 1893 he was back with the D'Oyly Carte organization:this time with Carte's Company "B" where he toured as Rupert Vernon in Haddon Hall until February 1894, then as King Paramount in Utopia Limited.Company "B" began to expand its repertoire in October 1894, adding Patience (though James took no role in the aesthetic opera).In January 1895 they added H.M.S. Pinafore (James as Sir Joseph Porter), and in February The Chieftain (James as Peter Grigg) replaced Utopia.In July 1895 James left the D'Oyly Carte Opera Company again.
James's next tour with the D'Oyly Carte organization was from April to December 1900 as stage manager for Company "D" on tour in The Rose of Persia.He was back on stage with Carte's Company "E" from July 1901 to February 1902, touring as Professor Bunn in The Emerald Isle.In March 1902 he left for South Africa on a D'Oyly Carte tour that would last until May 1903.His main duty was stage manager, but he also appeared as the Physician-in-Chief in The Rose of Persia, the Learned Judge in Trial by Jury, and Phantis in Utopia Limited.
The South Africa tour marked the end of his career as a D'Oyly Carte performer.He continued to serve the D'Oyly Carte organization as stage manager until 1910, and as publicity manager from 1911 until his death in December 1913.His wife, Annie James, appeared in the chorus on tour with him in the early 1880s.
---
Return to I - J Index | Return to "D'Oyly Carte Who Was Who" Home Page
---